It is very usual nowadays to require a loan for day-to-day expenses. Banks in each country operate under distinct rules and regulations when it comes to providing loans to its consumers. Similarly, banks in the United Arab Emirates (UAE) have their own set of laws and regulations that must be followed in order to acquire a loan.
Personal loans and business loans etc are among the several forms of loans accessible in the UAE. There are different conditions for each sort of loan. However, you should be aware of the steps involved in obtaining any loan. Therefore in this blog we will help you in learning the factors you must consider before applying for a loan in UAE
Business loans
Having the appropriate preparation is frequently the key to obtaining finance. You may have strong revenues and good credit, but if you don't have the following, you may be unable to obtain business Loan, so grab a pen and let's learn.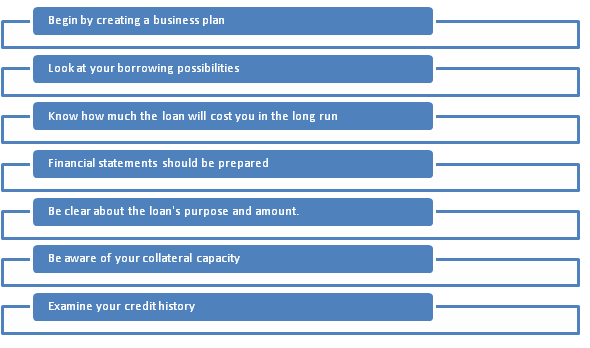 The above mentioned particulars are explained below for a better understanding:
BEGIN BY CREATING A BUSINESS PLAN
If you want to convince a lender to give you a business loan, the first thing you'll need to do is creating a business plan. Lenders will want to know that you are running a reputable firm and that you have the expertise and skills necessary to turn it into something spectacular. Include everything about your firm, including your goals, competition, previous and future revenue and expenses, market analysis, and how you want to expand your business. Demonstrate why you are the greatest candidate for the job, and then write an executive summary that will entice the lender to join your vision. This will be the first thing they read, and if they aren't immediately interested, it may be the last. Experts at Dhanguard can help you with formation of a sound one if you require.
LOOK AT YOUR BORROWING POSSIBILITIES
You'll need to conduct a lot of research to identify the bank or lender that will give you the greatest price. Don't be swayed by huge banks that appear to have fantastic deals before checking out local banks and credit unions. They may increase your chances of being authorized. You might get rejected, but keep trying. You'll locate someone who will give you the loan you need if you keep adjusting your ideas and researching all of your possibilities. We can also assist you in comparing the best loans provided by the banks in UAE.
KNOW HOW MUCH THE LOAN WILL COST YOU IN THE LONG RUN
You'll want to know how long it'll take you to pay back your loan. Find out what kinds of offers you'll be able to get from different lenders, and utilize those interest rates and costs to calculate your payments. All of this information should be included in your financial documents, but you should also total all of your payments to determine the total cost of the loan. Understand all of the terms and circumstances of each loan offer before deciding which one is best for you, and be able to demonstrate to the lenders that you are a good investment. Our website is filled with loads of information and statistics about loans.
FINANCIAL STATEMENTS SHOULD BE PREPARED
You should include any past and prospective financial figures you can present to the lenders. Make a plan and offer anticipated statistics to your lenders so they can see your objectives and know you'll be able to repay them. Include your cash flow, income, and balance statements from the previous three to five years, as well as your projections for the next few years, taking into consideration all seasonal changes in your firm and how you plan to use the money you're borrowing.
BE CLEAR ABOUT THE LOAN'S PURPOSE AND AMOUNT
You should know exactly what you intend to achieve with the loan and how much money you'll need to do so. Being specific about your needs regarding the loan will help you save the time and hassle in the future. Also if you take the amount of loan more than what you actually require; it will affect your financial situation as you will have to pay back the extra interest.
BE AWARE OF YOUR COLLATERAL CAPACITY
You may be required to put up some form of collateral for some types of loans. If you choose this type of loan, you'll need a decent estimate of how much your form of collateral is worth. Lenders will want to know this number, and you'll want to make sure you have something substantial to back up the loan. Just make sure you don't default on the loan and lose any property you're using as collateral.
EXAMINE YOUR CREDIT HISTORY
Before applying for a business loan, you should check your credit history, especially if your company hasn't had time to establish its own credit history. Lenders want to know that they're providing money to a responsible individual, so if your credit record isn't perfect, you might want to wait a bit and improve your personal credit before applying for a loan. Many lenders will also want to examine your personal bank statements and tax returns from the previous year, so plan ahead for the year before you need a loan. Dhanguard can also assist you in how you can maintain a good credit score.
Self Employed Loans
A self employed loan or a personal loan can assist you in reaching your financial objectives. However, a variety of factors influence how to choose the best loan. You might consider taking out a personal loan in the UAE if you need to consolidate high-interest debt or if you have a major expense, such as a home repair project. Such a financial choice usually does not require collateral, but eligibility is determined by your monthly income and expense history.
In the UAE, personal loans are typically approved and disbursed within 3-7 working days. But how can you decide which type of loan is appropriate for you in the UAE? Before accepting to a loan, it's a good idea to ask a few questions due diligence up front saves time and money afterwards.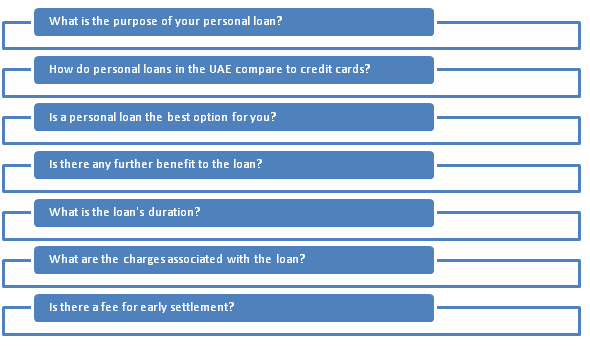 WHAT IS THE PURPOSE OF YOUR PERSONAL LOAN?
Being aware of your financial condition at all times is part of responsible money management. The most significant question to ask yourself is why you're taking out the loan in the first place, and what financial goal this cash infusion will assist you in achieving.
A hazy desire to relieve general constraints could lead to a similar cash shortage in the future. With a clear sense of purpose, you'll be better able to determine how much money you require and what type of loan to seek.
HOW DO PERSONAL LOANS IN THE UAE COMPARE TO CREDIT CARDS?
Each financial instrument comes with its own set of advantages. A credit card is the first type of virtual wallet, allowing you to pay for items as you go and potentially earning benefits like air miles or loyalty points. You may also be able to take out a modest loan on your card for immediate, short-term payments, depending on your credit limit.
A personal loan, on the other hand, can be used to pay for one-time, higher-ticket items like a family wedding. It allows you to pay off a large expense all at once and spread out the payments over a longer period of time, usually up to 48 months. The financial product you select should be based on how you intend to use it. It's possible that you'll want both. You can log to our official website for lucrative offers on leading credit cards and personal loans.
IS A PERSONAL LOAN THE BEST OPTION FOR YOU?
Once you've chosen why you want a personal loan, you'll need to select whether or not you want to deposit your paycheck into a bank account. You may already have a salary-linked loan on your home or car, and all you need is a little extra cash to get you through a temporary snag. In such instances, a personal loan is a viable option because such loans often do not necessitate income changes. You can check out various other types of loans on our official website to make smarter decisions and the choose a loan which best suits your needs.
IS THERE ANY FURTHER BENEFITS TO THE LOAN?
Paying off a large payment provides peace of mind in and of itself, but in the UAE, you can always expect a little something extra. Personal loans are no exception, with banks giving perks like shopping or gift cards to people who take out personal loans. A voucher for something you don't need is not a benefit; such incentives should only be considered if you often make similar purchases.
WHAT IS THE LOAN'S DURATION?
The length of time during which the loan must be returned, has an impact on the overall amount you must repay. Because monthly interest is levied on the diminishing balance of the loan, a shorter duration will result in lower overall interest. You can get all the information regarding the details and types of loans on our official website.
WHAT ARE THE CHARGES ASSOCIATED WITH THE LOAN?
In addition to the interest, a UAE personal loan may be issued with a number of associated processing fees. Documentation, background checks, employment verification, and whatever else the lender may require to guarantee their capital are normally covered by such fees. These fees are frequently expressed as a percentage of the overall price, so it's worth inquiring about them to get a full picture of all the fees you'll be responsible for.
IS THERE A FEE FOR EARLY SETTLEMENT?
How much would it cost to repay your loan early? This is a minor but crucial topic to ponder. While you will almost definitely not be charged the full amount of the original interest, you may be levied a penalty based on UAE Central Bank guidelines. Being aware of such fees allows you to prepare ahead of time.
Conclusion
Selecting the best loan option which caters your need to the full extent is not an easy task. But if you follow the above mentioned tips, we can assure you that the task of selecting a feasible one will be comparatively easy. We hope this blog was helpful in depicting the important factors which can consider before applying for a loan in UAE.