Although it is widely expected that future vehicles will heavily feature electrification, especially after diesel's second major setback last year (the VW emissions scandal), they are being held back for two main reasons:
The limited range of plug-in hybrid and pure-electric models, and
Their lack of fleet sustainability.
However, the large choice of power sources available makes selecting a new vehicle for business drivers and fleet operators rather difficult. To help you sort it out, we've put up a list of the benefits and drawbacks of the three main fuels now available: diesel, gasoline, and electricity.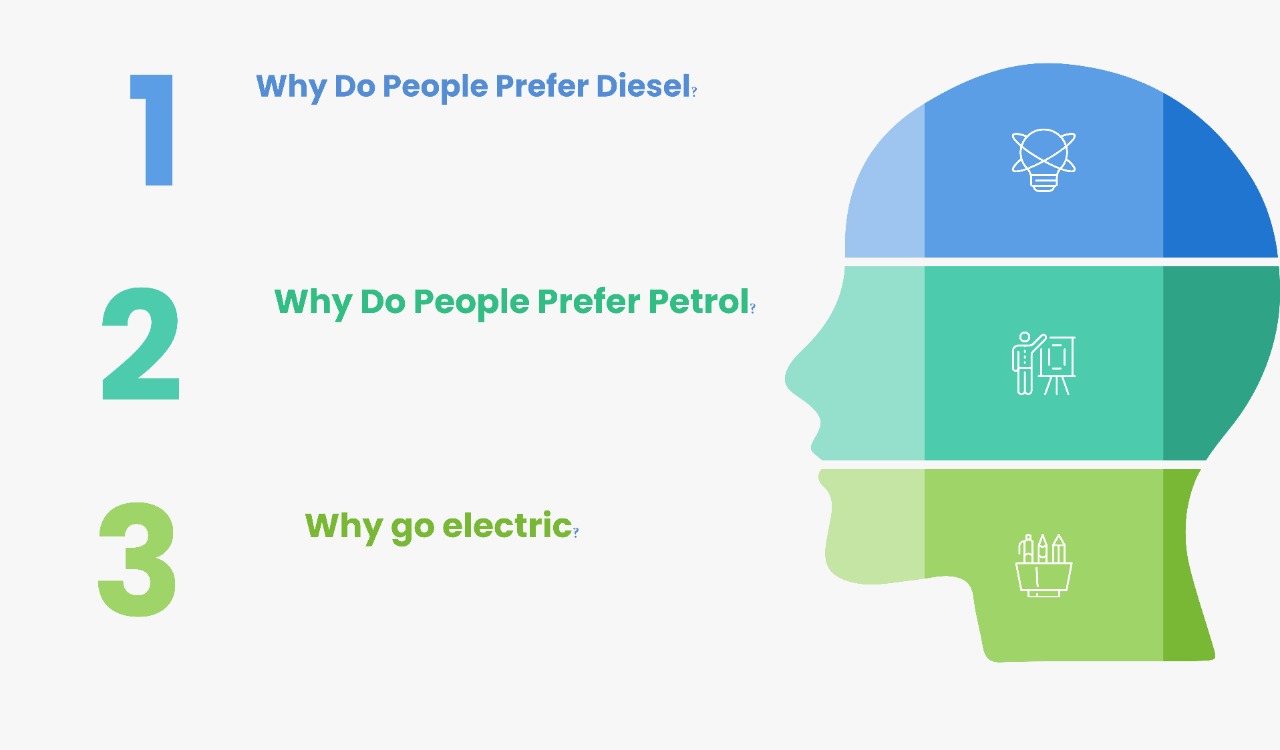 Why Do People Prefer Diesel?
When compared to petrol engines, diesel engines have a lower depreciation rate, which implies they have a lower lifetime cost.
Because diesel engines emit less CO2
They have reduced insurance and road tax costs.
Diesel engines will provide you more miles per gallon than gasoline engines. They also have a longer lifespan.
Diesel engines are 25% more efficient than gasoline engines. Fuel costs will be lower if pump prices stay the same. Diesel can be more fuel efficient than a hybrid or petrol vehicle on lengthy travels (due to better mpg).
Diesel engines have more pulling/torque power, which is necessary for larger commercial vehicles to tow heavier cargo.
Diesel emissions are now extremely close to those of gasoline according to the Euro 5 standard.
The difference in total cost of ownership between a gasoline and a diesel engine is not big enough to warrant changing.
However:
Diesel cars have generally been more expensive to purchase than gasoline cars, and they emit greenhouse gases (NO2) and particulates that degrade the environment (considering the low-emission zones and other measures to be applied soon in the UK, this can be a big problem).
The cost of replacing or repairing diesel engines is higher than for petrol engines (even though diesel engines require less routine maintenance), increasing insurance costs by up to 15%. This is partly due to the increased usage of diesel particulate filters, which raises maintenance and repair costs (filters clog when driving at low speeds), particularly if you drive primarily outside of town.
Furthermore, recent statistics reveal that diesel engines are slightly less reliable than their gasoline counterparts.
Finally, because oil is not an infinite resource, the price of fuel is volatile and can rise at any time (in this case, you will also end up with useless vehicles that cannot run).
Why Do People Prefer Petrol?
Currently, gasoline-powered automobiles are less expensive to purchase than diesel or electric vehicles. In addition, there are much more petrol fuel stations in the United Kingdom.
Diesel-powered vehicles are already prohibited in some European countries and large cities, with more to follow soon, making gasoline a more cost-effective option for fleets.
Petrol vehicles that have recently been redesigned offer outstanding fuel efficiency, low emissions, and improved performance and safety.
Petrol-powered automobiles are more enjoyable to drive because of their high-revving, responsive engines that make excellent sound.
A petrol car's resale value may be higher than a diesel cars.
However:
Petrol vehicles depreciate the fastest (though opinions differ and there is no official evidence to back this up) and emit the most harmful greenhouse gases. The way gasoline cars deliver power differs from how diesel engines do. Unless the petrol automobile is turbocharged, you'll have to let the engine rev higher to shift gear. Diesel cars' maximum torque is available at lower revs, making for a more comfortable and relaxing drive. The price of gasoline fluctuates as well. Furthermore, petrol is a hazardous material to handle and store.
Why go electric?
Because it produces no emissions and emits very little noise.
Electric automobiles do not have to pay congestion fees or road tolls, and the driving experience is much better (quieter).
They are a fantastic ecological alternative to gasoline and diesel that has a high residual value.
An electric vehicle's acceleration and torque are instantaneous.
They are less expensive to operate than diesel or gasoline automobiles.
Given the considerable government grants and incentives available to encourage vehicle owners to switch to electric vehicles, fleet operators can save a lot of money by going electric.
Electric cars outperform diesel automobiles on urban routes, which means they consume less energy, emit less greenhouse gases, and are less expensive. In some cases, the total cost of operating an electric vehicle is lower than that of a diesel vehicle.
However:
Electric automobiles are costly to purchase and take a long time to recharge (if you can find a recharging point nearby). Their range is also restricted, and since that electricity is typically provided by fossil fuel power plants, they are not a particularly environmentally friendly option. Aside than that, there aren't many models to pick from at the moment. Running a fleet of cars requires a fleet operator to make a number of challenging decisions, one of which is which type of gasoline to use. It all relies on the type of business you run, your long-term vision for the company, and the types of trips your drivers take.
Conclusion
With so many engine options available nowadays, it's no surprise that many people get perplexed when shopping for a new automobile. When it comes to determining which car to buy, it all boils down to your requirements. In cities with stop-and-go traffic, Electric vehicles are advantageous. In terms of towing capacity and long-distance range, diesels surpass all other classifications. Petrol automobiles are less expensive to buy at first and are the most prevalent type of vehicle.