You may be the best driver in town, but that does not guarantee that your automobile will be free of harm. There may be times when your car is seriously damaged due to circumstances beyond your control. A tree trunk, for example, could fall on it and shatter the windshield. Flash floods can be devastating. It could potentially be parked in an area where a riot has occurred. You may be wondering if your auto insurance covers riot damage or other similar situations. Even nonviolent protests might devolve into violent clashes, causing catastrophic damage to your vehicle.
An automobile insurance coverage is familiar to most people because it is a legal requirement. It is one of the documents scrutinized by traffic cops. However, few people are aware of the several ways in which a car insurance coverage might be beneficial in the event that the vehicle is damaged. In such cases, a comprehensive automobile insurance policy might be a lifesaver. This blog will show you how to do it. Here's further information on which type of coverage will cover your automobile if it is destroyed due to external circumstances like rioting or vandalism. So without any further ado, let's learn.
Riot Damage Coverage and Car Insurance
So, does automobile insurance cover riots, protests, or civil unrest-related damages? Yes, it is correct. On top of that answer, though, there's a little asterisk sign. Don't worry, it's not going to take your money and cancel your vehicle insurance coverage without a good reason. However, it is a warning sign, indicating that you should purchase the appropriate coverage to protect your four-wheeler against man-made disasters.
Here's the straightforward response. If you have an active Comprehensive Car Insurance policy on your automobile and have not broken any of the policy's exclusions, your insurer should cover car damage caused by riots. This is because a Comprehensive Plan includes coverage for 'Own Damage.' The basic Third-Party Liability Policy does not include this coverage.
Noteworthy Points:
Nowadays, all of the information you need to acquire a car insurance coverage online is available on the insurer's website.
The policy's type, coverage, and exclusions will all be clearly stated.
If you're unsure whether the vehicle insurance policy you're considering or the one you already have includes "Own Damage," seek it up in the Policy Wordings.
Another option is to call the insurance directly and explain any questions.
As a result, there is no separate cover or add-on that protects your automobile against man-made disasters. According to the terms and regulations, a Comprehensive Plan provides wide coverage to protect your car not only against man-made calamities but also natural calamities. Damages to your car caused by unforeseen, unusual, and uncontrollable incidents may be covered. Willful injury, on the other hand, is not.
You should renew your Comprehensive Plan before the policy's expiration date to keep it active. A policy that has expired has no coverage. It's the same as not having insurance coverage. As a result, you will be unable to make a claim on your insurance coverage.
What Should You Do If Your Vehicle Is Damaged in a Riot?
Riots, riots, civil disturbances, and other forms of unrest can quickly turn violent. When such situations spiral out of control, they can turn into disasters. If you're parked in a riot-prone area, your primary concern should be your safety.
Check on your car without putting your life in danger. If it is properly insured, you will be eligible for financial aid. Unfortunately, if your car has been substantially damaged as a result of riots and vandalism do not enter it; instead, leave it as is and collect proof. Noting down the specifics, such as the time and exact place when you discovered the damage, can be used as proof. Take images of the vehicle that has been damaged. While filing a claim, it's also a good idea to take a brief video of the damaged vehicle from all angles.
Noteworthy Points-
You should notify your car insurance company as soon as possible after an incident like this.
A delay in reporting may be considered if you are injured or unable to provide information. In most cases, you must notify the insurance as soon as possible.
They'll double-check your insurance information and walk you through the steps for filing a claim.
Documents required for filing a Riot Damage Claim:
Your insurer will need the following papers to verify and authorize your claim application. Please keep in mind that this is a generic list. Under different conditions, the actual document needs may differ.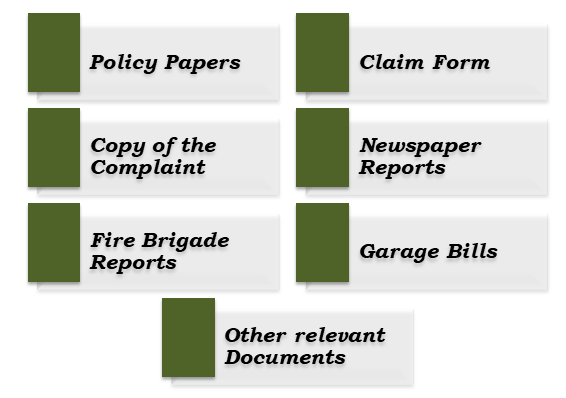 POLICY PAPERS
The insurance company will request your policy document, ask for your policy number, or just verify the information with your name and contact information. They'll check to see if you're covered properly.
CLAIM FORM
Some traditional insurers may need you to submit a completed claim form. New-age insurers will likely automate such processes, requiring you to fill out only the most basic information online rather than filling out any paperwork.
COPY OF THE COMPLAINT
You may be required to obtain a copy of the police complaint about vandalism in your neighborhood. A document like this will verify your claim to a large extent.
NEWSPAPER REPORTS
You can submit a newspaper cutting if the riots were covered by a newspaper. Alternatively, you can send links to relevant internet news articles or trustworthy news videos.
FIRE BRIGADE REPORTS
There is a chance that the fire department might be involved if rioting and vandalism were to occur on a significant scale. It would be beneficial to have a report from their office.
GARAGE BILLS
If you have elected to refund your car repair bills rather than use Cashless Claims, you must present all garage bills and replacement part invoices when filing a car insurance claim.
OTHER RELEVANT DOCUMENTS
Aside from the documents listed above, the insurance company may request additional documents on a case – by - case basis.
Riots are covered under the SRCC Insurance Programme
Riots are covered by an insurance policy known as SRCC, which stands for strikes, riots, and civil commotion. All three expressions refer to public irritation and disturbance, which usually entails a group of at least three persons doing a violent act. However, the most significant distinction between riots, strikes, and civil unrest is the quantity of individuals involved.
In the UAE, the most common scenario for strikes, riots, and civil commotion (SRCC) coverage is that it is included in some Gold or Higher-Tier comprehensive automobile insurance policies, and in some cases, even some regular comprehensive car insurance policies. Furthermore, the majority of third-party liability insurance plans do not allow you to add SRCC to your motor insurance policy.
Is it obligatory to buy SRCC insurance in the UAE?
To answer this question, let's start with some numbers. We would want to respond that the answer is NO, as Dubai and Abu Dhabi have been named among the safest cities in the world in an annual report done by the worldwide research website Numbeo.
After all, Abu Dhabi has twice been named the world's safest city, and Dubai has ranked sixth on the list. Furthermore, the majority of UAE citizens would agree with this, as a recent poll found that 96.1 percent of UAE inhabitants believe it is completely safe to stroll outside at night. However, we cannot dispute that prevention is preferable to cure. Because riots can happen at any time and without warning, it is highly recommended that you purchase comprehensive car insurance that includes strike, riots, and civil commotion coverage.
Defending your Vehicle against Riots:
There's no guarantee that rioting or vandalism won't happen to your car. There are, however, some precautions you can do to lessen the chances. Here's a rundown of some of these metrics.
Place your car in a secure location.
If at all feasible, park it in an area where security guards are on patrol.
Protect your vehicle with a long-lasting cover.
If you have reason to believe (based on trustworthy information) that your car is parked in or going through an area that is prone to vandalism, make every effort to get it out of there. However, do not put your own safety at risk.
If your car is damaged, a Comprehensive Plan will help you with financial protection. Additionally, parking in an area with surveillance cameras can be beneficial when filing a claim because the camera's feed can be used as proof.
Reasons for Claim Rejection in Riot Damage Situations:
Car insurance firms have a thorough claim verification procedure in place. This is in place to deter fraudulent claims and guarantee that legitimate claims are resolved promptly. An automobile insurance provider may reject your claim submission for a variety of reasons. If you have the proper papers, you shouldn't have any concerns. Your application should be approved if you collaborate with the claim supervisor.
Here's a rundown of some of the more important ones.
If the policy has run out of coverage.
If the policy does not contain coverage for 'Own Damage'.
If it is discovered that the car damage was done on purpose.
If the policyholder or affiliates have engaged in dishonest behavior.
If the loss is caused by circumstances that are not covered by the policy.
If the policyholder disregards the policy's terms and conditions.
If the required documents are not provided.
Conclusion
In the end we can conclude with the fact that Riot Coverage is also an essential part of your Car Insurance Plan. You should definitely consider it if you can afford it. We can never be sure we might need that but it's better to be safe than sorry. Also following the above mentioned tips and advices will help you in making a better choice. We hope this blog provided you with incite full information. For more information on other related aspects, feel free to checkout our website also.