Everyone nowadays prefers to pay with their credit cards rather than cash. It reduces the weight of the wallet or pocketbook. People are more likely to use contactless payment methods than cash or their contactless credit cards during the worldwide pandemic, as people refrain from touching each other, let alone touching goods in stores. Because of technology advancements, many banks and tech companies now accept tap-and-pay or QR-Code payments instead of cash. You don't need to swipe your cards any longer. You can approve the transaction by waving your card at the machine or entering your pin. Contactless payment is becoming increasingly popular, particularly among the younger population. The majority of individuals pay using their Smartphone and receive numerous benefits as a result. Many app developers have developed online payment applications in recent years, and they have grown popular because they offer substantial cashback and voucher rewards when you use their app. While many consumers enjoy the convenience of contactless payments, others are wary of the concept. They prefer the tried and true way of making payments using cash. We'll go over the benefits and drawbacks of Contactless Credit Card technology that both consumers and company owners should be aware of in this post.
What is a Contactless Payment, and how does it work?
Near-field communication (NFC) technology is used to make contactless payments. When devices are within millimeters of the POS terminal, they connect with the payment reader via radio frequency identification (RFID). Payment information is transferred using RFID when you tap or wave your Smartphone over the payment reader. To protect your information from hackers and internet thieves, all transactions are carried out using encrypted protocols that are impenetrable to hackers. This ensures that no one, including hackers, can access your credit or bank information. Customers' sensitive information is never stored or saved by companies like Apple, Google, or Samsung. Let's look at the benefits and drawbacks of the payment system now that we know how it works.
Contactless Payment System Benefits
Businesses and individual end-users alike benefit from contactless payment options.
INCREASED OPERATIONAL EFFICIENCY AND EASE OF USE
The most significant advantages of contactless payment are faster transactions and shorter lines at the checkout. At the checkout, dealing with cash is not an issue. You also save time by not having to punch in your PIN. From both a business and a customer's perspective, the entire procedure is simple and quick, saving both sides time.
IMPROVED SECURITY
Other payment methods, such as magnetic stripes, are less secure than contactless technology. When all of your bank information is stored on a magnetic stripe, hackers can easily take it and use it to create fraudulent charges.
THERE ARE NO FURTHER CHARGES
Merchants who accept contactless payments are not charged any additional fees by credit card providers. They merely need to install appropriate card readers.
HYGIENE
Hygiene is also crucial, especially in the event of a pandemic. As a result of retailers' failure to sanitize card terminals between customer usages, germs can be passed from one person to the next as they interact with the payment hardware. Customers never have to touch the machine or the PIN pad when making contactless purchases. Instead, they only make touch with their card or phone, isolating any germs and reducing the risk of spreading to the next consumer.
A WIDE RANGE OF FEATURES
Because Smartphones accept contactless payments, all of the smartphone's functionalities become available. Biometric authentication, remote deactivation, pin protection, virtual card provisioning, and loyalty programmes delivered to the phone are all examples of this. Smartphones also allow for innovation and the development of new functions.
IMPROVED CUSTOMER SERVICES
According to studies, businesses that accept contactless payments provide customers with a smoother and faster checkout experience, winning their loyalty. Stores can also increase consumer interactions by optimizing their loyalty programmes.
REWARDS
Customers can also keep track of their points and prizes when they make a purchase. When you use a bank's platform, they may also offer you cashback or vouchers.
Contactless Payment System Disadvantages
Despite the advantages that contactless payment solutions offer customers and organizations, technology can give birth to a few issues. Most of these issues are now being addressed by new innovations. However, here are a few problems to consider as a starting point.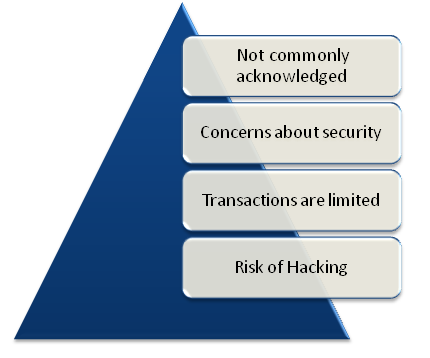 NOT COMMONLY ACKNOWLEDGED
Contactless payments, like most other technologies, need both parties to invest in a set-up. End-users will not be able to utilize the facility if retailers or POS systems do not have the solution connected with current payment systems, even if they have their part set up. Poor network coverage at the moment of payment might also be a barrier, particularly in an emergency or critical situation. There may also be technological impediments to adoption because these tap-to-pay systems need consumers to have an NFC-enabled Smartphone. There may also be technological impediments to adoption because these tap-to-pay systems need consumers to have an NFC-enabled Smartphone.
CONCERNS ABOUT SECURITY
Because a contactless card transaction does not require PIN authorization, there is a risk of fraudulent transactions if the card is lost or stolen. New payment solutions, on the other hand, are constantly improving their features and offerings in order to improve the end-user experience and eliminate customer and corporate concerns.
TRANSACTIONS ARE LIMITED
Most banking and financial organizations that offer contactless payment services will set a maximum payment limit to prevent misuse and fraud. In most cases, card payment and net banking restrictions will be higher, whereas contactless payment modalities will have significantly lower limits.
RISK OF HACKING
Because hackers are always updating their technology and hacking software, there is always the possibility of a spyware or malware attack on your electronic equipment. Hackers are becoming smarter every day, just as banks and cyber security groups are inventing new ways to protect your information.
Conclusion
The more individuals who are educated, the more likely it is that a contactless payment system will become a reality for everyone. Customers should also be aware that businesses do not hold sensitive information about them and conduct transactions in a secure manner. This approach also aids in business growth by improving client satisfaction and experience. A customer is always pleased when payment takes less time. It's time to get an electronic payment device or a contactless credit card if you don't already have one. Embrace technological advancements and reap the benefits of using this system. When will you evolve as the world evolves as a result of the digital revolution?