Like a debit card, a credit card is a financial tool, but it can provide short-term loans that you must repay by the due date. UAE credit cards come with various benefits, including travel, entertainment, lifestyle, and shopping. Furthermore, banks offer credit cards tailored to customers' needs and spending. Some credit cards provide rewards and rebates, while others offer complimentary airport lounge access and travel privileges. Banks in the UAE have flexible conditions for obtaining a credit card.
You can easily apply for a credit card in UAE with a minimum monthly salary of AED 5,000. A little bit of security goes a long way, whether related to the money or non-financial parts of your life. Credit cards are one type of security that can come in helpful when you're in a financial bind.
How to Compare Credit Cards in UAE?
With so many credit cards available in the UAE, it might be tough to determine which is the ideal credit card for you.Before applying for a credit card in UAE, it is critical to compare them.
Here are some of the fundamental elements to consider while making the comparison between different types of credit card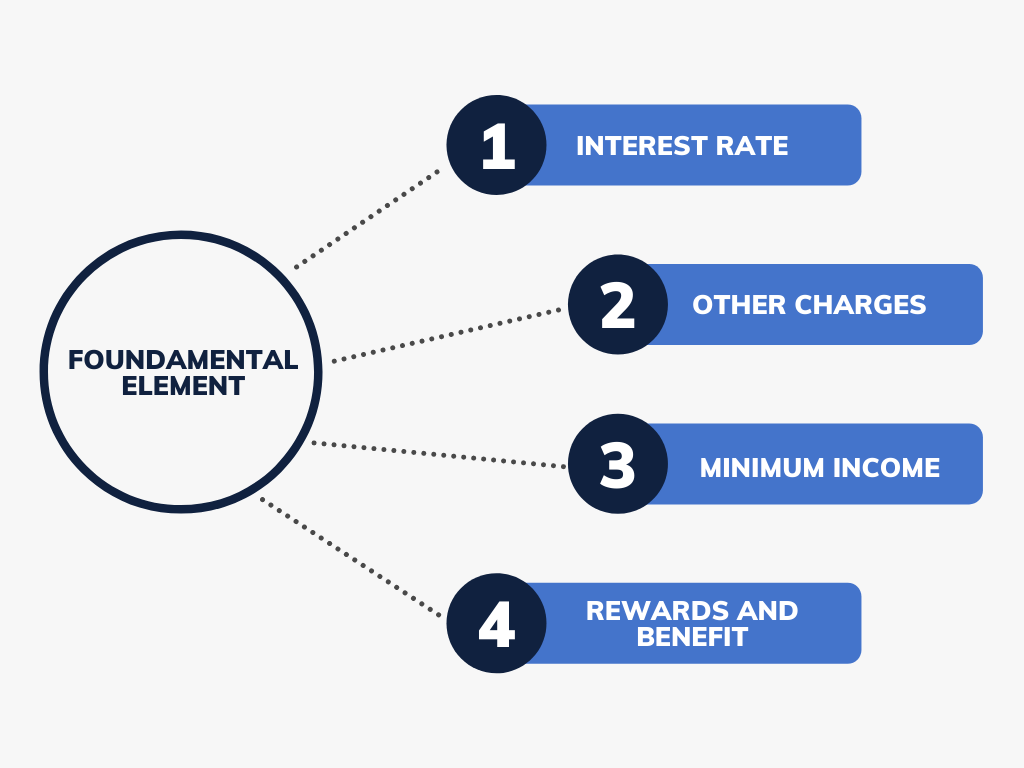 Interest Rate
Credit card companies promise to charge low-interest rates to hire more users. However, the applicant must check interest rates on other credit cards to locate the best deal.
For example, do you want to make a major purchase and repay it with no interest, or do you want to transfer an existing debt from one card to another? You could want to increase your credit history or earn rewards points. You might just want a credit card for convenience and to pay off the bill in full each month. for
Other relevant Charges
Every credit card comes with a few mandatory charges that the cardholder must pay. The applicant must carefully read the fine print to ensure that they know the fees associated with the relevant card.
Whatever your reason for wanting a credit card, use the credit card selection to narrow down the type of card you require. This will narrow down the list of cards to those that are most relevant to you.
Minimum Income
To be eligible to apply for a credit card in the UAE, the applicant must earn a specific amount of money each month. They must earn at least 5,000 dirhams per month to qualify for the card.
Consider reviewing your present credit score and credit record before applying for the credit card. Credit card providers will typically review this information before making a decision on your application.If you have a bad credit history or no credit history, you may be denied for that particular card. By applying for the card before reviewing your credit score, you may be harming your credit score profile even more.
Rewards and Benefits
Before applying for credit cards in Dubai, the applicant should research the various cards' rewards and benefits. They must select the card equipped with the most appropriate set of bonuses for them.
When you've decided which credit card to apply for, click the button on the comparison table to apply for the card of your choice.
Read more:-Everything you need to know about Credit Card Limit
Benefits of Credit Card in UAE
In addition to immediate short-term loans, UAE credit cards provide a variety of shopping, lifestyle, travel, and entertainment incentives. With every transaction, you earn benefits ranging from loyalty money to retail vouchers.
The following are the primary advantages of credit cards in the UAE:-
Safer than Carrying Cash
If a wallet is stolen, it is unlikely that it will be discovered again. It will sting if you had stored a considerable quantity of money in your wallet. A credit card, on the other hand, can be cancelled. Several credit card issuers additionally provide a variety of security measures to protect you against fraudulent transactions.
Improve Standard of Living
The majority of UAE residents have bank accounts, which allow them to manage their online assets and gain benefits such as interest and credit card facilities. The credit card allows you to spend money that exceeds your savings limit and can be refunded at the end of the month. These cards can be used to pay retailers and purchase the things on sale. This account, however, comes with a credit line that expires when the credit limit is reached. It is a revolving account, which implies that there is a restriction on the amount of money that may be spent with the credit card.
Exclusive Entertainment Offers
Many credit cards in the UAE come with exclusive entertainment offers such as Buy1Get1 movie ticket deals, discounted entry to theme parks and adventure sports, and complimentary food and beverages. However, you may need to exceed the minimum monthly spending criteria to take advantage of such deals.
Travel and Medical Insurance
When you use your card to book a ticket, you will receive complimentary travel medical and personal accident insurance with international coverage. The package is also known as multi-trip travel insurance, and you can secure each excursion for up to a day.
Interest-free Period
The vast majority of credit card firms in the UAE provide an interest-free period. This means that if you pay all of your bills on time, you can get a short-term loan. You have exceptional ability to make emergency payments, and you will be able to repay it when you receive your monthly wage.
Build a Good Credit History
A good credit rating can be obtained by using a line of credit to make purchases and paying them off on time. This increases your chances of being approved for a loan with a low interest rate.
The numerous advantages of credit cards are frequently neglected. Having a credit card is a simple and useful way of making purchases and transactions as long as you have some control over your spending habits.
Eligibility Criteria & Requirements for Credit Card in UAE
The following table shows the eligibility criteria along with the requirement for the same-
| | |
| --- | --- |
| Eligibility Criteria | Requirements |
| Minimum Age | 21 Years |
| Nationality | UAE residents and UAE citizens |
| Employment Status | Salaried or Self-Employed Individuals |
| Minimum Income | AED 5000 |
| Credit Score | Minimum 580 |
Documents Required for Application Process of Credit Card in UAE
To complete your credit card application the following documents have to be submitted to the credit card provider and the financial institution.
For salaried employees:
Proof of identity/passport

Emirates ID and valid residence visa

Monthly salary certificates

Bank statements
For the self-employed:
Proof of identity/passport

Trading certificates

Emirates ID and valid residence visa

Bank statements
Conclusion
Applying for a credit card in the UAE can be a time-consuming procedure, especially when multiple cards offer similar benefits and rates of interest. Dhanguard assists the applicant in saving time and deciding on the best card for their needs. You may easily apply for a credit card in the UAE using the banks' and providers' online and physical platforms. Before sending out credit card applications, primary eligibility conditions must be met. The acceptance of your credit card application is determined by your credibility structure and the bank's judgement.