Travelers who are frequent flyers are well aware of how costly it may be to cover travel expenses. The cost of travel, from plane tickets to hotel reservations, may be quite exorbitant at times. Moreover with the pandemic hitting us hard, many of these services have taken a toll as a result of which there prices have been raised significantly in some places. So finding a budget friendly option is the need of the hour now.
Some banks and financial organizations provide travel credit cards to meet traveler's demands. One might choose this option and save a good amount of money on travel expenditures. In the UAE, Travel Rewards Credit Cards are quite popular since credit card issuers offer a variety of specific rewards and bonuses. Therefore in this blog we shall discuss about the specifics of a good Travel Credit Card which can help you in selecting a better option yourselves, so let's learn shall we!
Travel Credit Cards: What are they?
A Travel Credit Card offers a variety of opportunities to earn points, miles, or incentives that may be redeemed for incredible savings on airline tickets, hotel reservations, and vehicle rentals. It also comes with a slew of travel-related benefits. Simply put, a travel credit card is intended to make travel more affordable and hassle-free. Special and excellent benefits are available with travel credit cards. There are two categories of reward points.
To begin, certain travel credit cards may provide new cardholders a signup bonus or welcome points.
Second, the travel credit card gives you points for spending a particular amount, and you may get a bonus if you buy something from a co-branded hotel or airline. Once the cardholder has accumulated enough reward points, they can use them to gain discounts on airline tickets, hotel reservations, car rentals, and other travel-related purchases.
Criteria for Applying for a Travel Credit Card
The requirements for applying for a travel credit card differ from one bank to the next, as well as from one card to the next. The following are the main requirements for obtaining a Travel Credit card.
The applicant must be between the ages of 21 and 65.
The applicant must have a consistent source of income.
The applicant must have a physical address.
Expats must supply extra credentials such as a passport and a residency permit if they are the citizens of UAE.
Dhanguard suggests you to keep in mind that Credit Card applications are subject to credit and other important policy checks based on the credit card provider's requirements.
Travel Benefits Credit Cards: Features and Benefits
The cardholders of a travel credit card can take advantage of a variety of incentives. Travel cards offer a variety of incentives, ranging from sign-up bonuses to free airport lounge access, to fulfill the demands of travelers. The key perks offered by the majority of travel credit cards are listed below.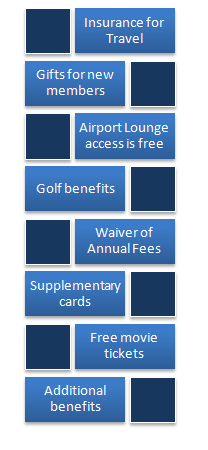 INSURANCE FOR TRAVEL
Some travel credit card companies offer free travel accident insurance to its cardholders. They also provide reimbursement for the inconvenience caused by missing or delayed flights, as well as the loss of checked luggage.
GIFTS FOR NEW MEMBERS
As a sign-up bonus or welcome gift, most travel credit cards give reward points. These reward points can also be exchanged for air miles on domestic and international airlines.
AIRPORT LOUNGE ACCESS IS FREE
Some of the greatest credit cards come with free airport lounge access at a variety of locations. The cardholder can sit, relax, and enjoy light refreshments if their flight is delayed.
GOLF BENEFITS
Travel credit members can also enjoy a complimentary game of golf at one of the UAE's golf facilities once a month.
WAIVER OF ANNUAL FEES
The majority of credit card applicants look for a travel card that does not have an annual fee. Some travel cards come with a benefit of not having to pay an annual fee. The annual charge can be waived if the cardholder spends a certain amount during a set time period, as defined by the credit card issuer.
SUPPLEMENTARY CARDS
Cardholders can get as many supplementary cards as they want for their qualified family members. There is no additional charge for the supplemental cards. On each of the supplementary cards, cardholders can set a spending restriction.
FREE MOVIE TICKETS
The majority of travel rewards credit cards are available. Purchase one. Every month, you'll receive one free movie ticket that you can use any day of the week.
ADDITIONAL BENEFITS
Some of the finest travel credit cards include perks like dining discounts, concierge services, and purchase protection, among others.
Factors you should consider before selecting a Travel Credit Card from a variety of options
Nothing beats getting a discount on your travel-related purchases. The best travel credit card gives incentives or miles that may be redeemed for travel reservations such as plane tickets, rental vehicles, and hotel reservations, among other things. When it comes to selecting the best travel credit card, there are numerous possibilities. How can one choose the finest travel credit card? Well we will answer your question. While the options may appear unlimited, there are a few things that applicants should keep in mind while selecting the best travel credit card.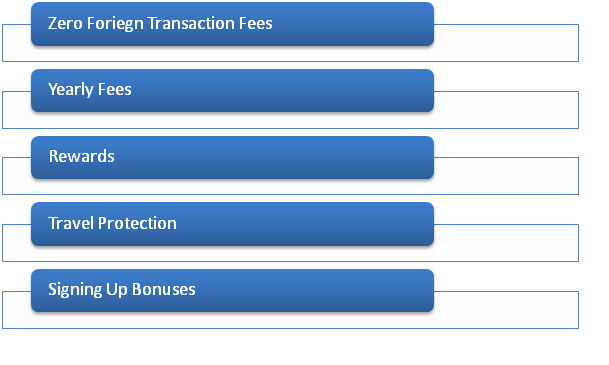 Zero Foreign Transaction Fees
If the applicant travels regularly to other countries, it is critical to select a card that does not impose foreign transaction fees.
Yearly Fees
There is little doubt that a travel credit card with an annual charge provides more benefits and rewards than one with no annual cost. Credit card experts also recommend assessing the value of the points and bonuses to ensure that the annual cost is justified.
Rewards
On their cards, all travel credit card providers offer appealing perks and bonuses. It's critical to know how many miles will be gained per dirham spend while picking the best travel credit card. In addition, the candidate should be aware of the value of those miles.
Travel Protection
The cardholder should choose a travel card that offers the most comprehensive travel protection, such as reimbursement for flight delays, lost or damaged checked baggage, trip cancellation and interruption insurance, and travel accident insurance, among other things.
Sign Up Bonuses
The majority of travel credit card issuers offer attractive introductory incentives. When choosing the best travel card, candidates must compare the signup bonuses. The cardholder can use the sign-up bonus to get amazing deals on travel tickets, hotel reservations, and other things.
Conclusion
Travel Credit Cards can benefit you to a great extent, if chosen and used correctly to their full advantages. Thus with the help of the above mentioned tips and benefits, we hope you will be able to make a smarter choice, when selecting a Travel Credit Card that suits your need perfectly. We hope this Blog was helpful. For more information related to other types of Credit Cards in UAE, log on to our official website.