Financial literacy refers to a person's ability to handle their finances. Financial literacy aims to provide a thorough understanding of money concepts. And someone can efficiently handle money if they have a thorough comprehension of monetary principles. It's a skill that may be honed over time through practice and education. Budgets, investments, personal finance, insurance, loans, and interest are all examples of financial literacy.
Books, journals, newspapers, and online portals are excellent sources of information for learning about financial products and keeping up with the newest changes in the financial markets. It is critical to obtain the most up-to-date information about financial changes. The dynamic environment is continuously changing, and being up to date on the latest advancements can not only save you money, but will also help you grow your wealth through the correct investments. In this blog, we will show you how to improve your financial skills. So without any further ado, let's learn.
Tips to help you become more Financially Literate-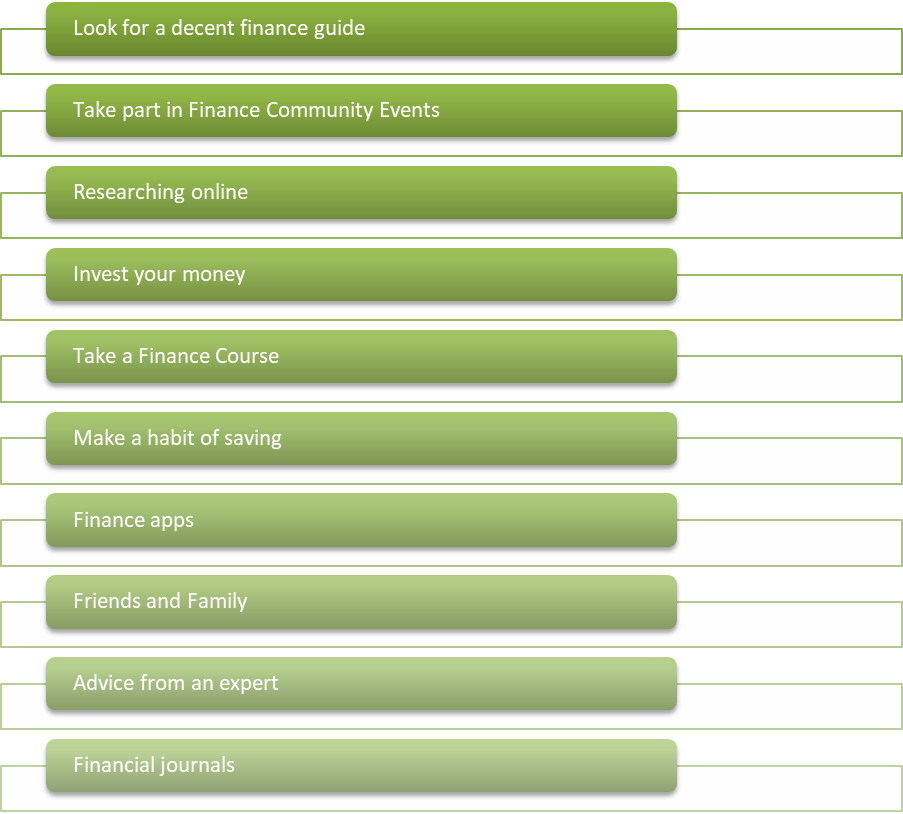 Look for a decent Finance Guide-
Books that give you a thorough understanding of financial investment principles will help you become more mindful of financial products. Books may be an excellent source of information for both novice and experienced investors. The major advantage of books is that they allow you to learn about any subject you are interested in. A large number of books on financial instruments can be found in any respectable library. Improve your financial literacy by investing time in good financial literature.
Take part in Finance Community Events-
To raise awareness, educational institutions and financial institutions host events on financial education and financial goods. By attending these events, you can make informed judgments about expanding your financial knowledge. These events are planned in virtual formats as well as at the events themselves. During these sessions, attendees have the opportunity to ask questions concerning the topics addressed.
Budgeting, investments, savings, and other financial issues will be the focus of the activities. These events are organized by several financial organizations to offer their products, such as insurance, retirement plans, child education plans, loans, credit cards, and so on. Participants will gain product expertise, while financial institutions will receive business leads. It is a win-win situation for all parties involved.
Researching online-
You may find a wealth of financial information on the internet; in fact, the internet is an ocean of data. It is critical to understand which information should be trusted and which should be avoided. If you know exactly what you want, all you have to do now is look it up on the internet.
You'll have a lot of information at your disposal. It's also worth noting that not all of the information available on the internet is accurate. You must first determine the accuracy of the information before making a judgment based on it. It may not be comprehensive; however the data accessible may be linked. Do not make selections based on information found on the internet; instead, conduct your own research and choose the greatest fit for you.
Invest your money-
The concept of investing is the first step toward gaining financial knowledge. When you have the desire to invest, you will conduct thorough study on the many financial products available. As soon as you begin your fundamental research, you will begin to receive several investment possibilities.
You will learn about several sorts of investments and their benefits and drawbacks during this process. If you take the initial step, your research will teach you a lot about investing. You may enhance your financial literacy by conducting research with the purpose of making an investment. If necessary, seek the advice of specialists during your investigation to assist you make the best investment and achieve the best results.
Take a Finance Course-
A short-term financial education might be quite beneficial if you have no prior experience of income, expenses, losses, gains, or any other financial products. These courses can help you gain knowledge and overcome your weaknesses if you are serious about learning. Financial classes are provided for both novice and seasoned investors. Beginners can learn the fundamentals of fund investments, while experienced investors can gain a deeper understanding of investment topics. They will gain valuable insight into where to invest, how to invest, and how much to invest.
Make a habit of saving-
If you live on a monthly budget, saving money is essential. Saving money is not difficult; in fact, if done consistently, it may work wonders for you. When you begin to build the habit of saving, you will automatically create monthly budgets, allocate costs, and make the most use of your money. Throughout this process, you will experiment with different techniques of saving and increasing your savings returns. You'll learn the fundamentals of finance and build the habit of goal-setting and aligning your finances with your investments. It will open up new possibilities for long-term investments and savings.
Finance apps-
Finance apps are a novel concept that is quickly gaining traction as a valuable source of information sharing. Finance apps on mobile phones are a good source of knowledge sharing devices in modern technology generation, with phones being a part of daily life. Product information and automatic algorithms are put up in finance apps to deliver the right information you require. The user interface mechanism is also in place to ensure that you have the greatest possible experience. These financial apps can also provide information on EMIs, taxes on investments, document files for tax returns, and a variety of other services.
Friends and Family-
The best experts are right in your own home; asking your parents and grandparents questions about saves and investing will help you increase your financial knowledge. Your friends' and family members' financial success stories will provide you with investment ideas. Financial planning, saves, investments, returns on investments, and any other knowledge you can gather from family members who have done it before. Every household has a monthly budget, which they follow for the full month. You can enhance your financial literacy by relying on the competent counsel of your family members who manage the household finances.
Advice from an Expert-
You can reach your financial goals with the help of a qualified financial advisor. Knowing about financial products will be easier if you have a fundamental comprehension of the issue. Expert counsel will assist you in gaining insights into professional assistance. You can gain a better grasp of how money is spent.
You might seek the advice of a financial specialist who can prepare a financial plan for your investments. When you speak with specialists, you will gain a better grasp of financial products and will be able to expand your knowledge on the subject. When it comes to learning, expert assistance can help you gain a better understanding.
Financial Journals-
Financial journals, both printed and electronic, are a source of financial data. The internet has a wealth of information, and online financial journals have the best confirmed financial data. Expert teams collaborate and supply financial data in the form of offline financial journals. You may acquire quality content regarding financial items by subscribing to any of the financial journals. Weekly or monthly financial journals are available from the greatest financial magazines. They give you with subjects and expert talks on financial items so that you can gain knowledge and improve your skills in investing.
Conclusion
Harboring the skill of smartly spending your money is of utmost importance is today's era. You can earn enormous amounts of wealth, but not making smart financial decisions and spending carelessly can land you in the place, you don't want to be. That's why having proper Financial Literacy is relevant because it will help you make smart decisions for which your future self will thank you. If you have a family, then Financial Literacy is also very important in order to secure their bright future as well as your secured retirement. If correctly implied the above mentioned tips, you can surely make some good decisions related to your hard earned money and be financially sound. We hope this blog provided you with incite full information. For more information on other related aspects, feel free to check out our Website as well.