A flourishing financial and investment environment has come from favourable legislation, state assistance, and the population's purchasing power. They have made the UAE one of the most secure countries in the world when it comes to financial dangers. Having obtained a license and tax resident status, you can issue loans, manage and advise, receive commissions and rewards while managing securities and finances in the UAE and abroad, without taxes and exchange of tax information.
Due to the presence of key pillars of the corporate world, business, a comforting yet confusing phrase, stands steadfast. Every day, a large number of company entities come into being, which serves as the first step in turning their thoughts and fantasies into reality. Finance is one of the indisputable cornerstones that propels a firm forward. In simple terms, we might refer to it as the gasoline that propels an entity's engine of ideas into action. One of the increasing investment grounds is the United Arab Emirates, one of the rising states among the GCC countries. The nation has positioned itself as the pedestal of business establishment in the minds of global investors, entrepreneurs, and business professionals.
Understanding the importance of finance for company survival, the UAE has set its sights on being one of the world's financial centres. The quick growth of business establishment in the region has aided the financial elements in a variety of ways. Investors and entrepreneurs who work in the financial sector have a lot of options when it comes to starting a business in the UAE.
Types of Financial Company in UAE
When it comes to financial business formation in UAE, the region allows investors to come forward and start any of the following.
Banks
The UAE Central Bank is the major financial regulatory authority, overseeing 23 local and 26 international institutions. When it comes to branches, the initial count in 2018 was 761, but that number dropped to 733 in 2019, with the goal of improving the country's money flow. A reduction in branches, e-Banking services, and a rise in the number of ATMs (5,279 at the end of March 2019) are now the main reasons for the reduction process. The UAE's financial and insurance sector accounts for ten percent of the country's GDP.
With a mix of technology, the banking business in the UAE has seen many developments. Every step, from personal to corporate transactions, is now tied to digitization, which is a new advantage that banks must shape themselves to accommodate. Both national and foreign banks' financial health has improved in the UAE.
Financial Investment Companies
The second alternative that investors consider is investment companies in the United Arab Emirates. Investment companies are among the most advantageous, as are the types of activities that can be carried out in UAE's free trade zones. Furthermore, there are several tax benefits and, in many cases, tax exemptions. When it comes to investment company options, there are multiple kinds to choose from, which includes:
1. International trade and investment company.
2. Insurance and reinsurance company.
3. A company with banking activities.
4. A company dealing with real estate investments.
5. A company dealing with the management of investment funds.
6. A company dealing with the management of family assets.
7. A company dealing with investment schemes in the UAE and overseas.
Types of financial activities available for licensing in the UAE
For a fee, investors' funds are invested in firm assets and financial goods.
Issuing credit cards and financial products, as well as providing direct and trade finance.
Financial services utilising cutting-edge technology such as artificial intelligence and Big Data.
Commercial Projects
Operation with securities
In the financial markets, there are financial instruments, investments, and client (intermediary) operations.
Creating Investment Funds
Private Person and legal entities' finances are pooled for joint investment.
Payment Service Provider (PSP) licence - activities involving the receipt and processing of payments for third parties.
Providing a variety of services relating to asset optimization, investment attraction, and placement.
Providing insurance products and services to individuals and companies.
Investment and financial licences in the United Arab Emirates: differences and peculiarities
Mainland Incorporation
Local (mainland) enterprises can do business in the UAE's home market while also representing interests and operating in international markets.
This solution provides status and trust with banks and counterparties, as well as respect in the worldwide arena, due to the company's position in the local market.
It's got a convoluted structure.
Financial Centres
The right to undertake financial and investment business transactions on a permanent basis in specialised FTZs and worldwide markets is ensured by these licences.
A licence in the DIFC and ADGM, the UAE's key financial centres, ensures the company's high standing and respect. 100% foreign ownership is permitted, although there is a lengthy registration process.
Incorporation in some FTZs
Companies registered here are used to conduct business outside of the UAE and to execute financial and investment transactions. It prevents you from freely operating in the domestic market. Local banks and counterparties are taking a cautious approach. Allows for 100% foreign ownership and is simple to obtain a licence.
Jurisdictions in the United Arab Emirates for forming investment and financial companies.
Mainland (The Local Area)
The Economic Development Departments of each of the Emirates' Mainland (Local Area) serve as Registrars. For a number of licences, additional requirements and authorization from local financial regulators may be required.
Dubai International Financial Centre (DIFC)
It is a financial centre with its own financial regulator (DFSA), registration authority, and arbitration court. Additional requirements and authorization from the internal financial regulator may be required for a number of licences.
Abu Dhabi Global Market (ADGM)
It is structured with its own financial regulator (FSRA), registration authority, and arbitration court. Additional requirements and authorization from the internal financial
A number of Free Trade Zones of the Northern Emirates
There are no internal financial regulators and only limited licencing requirements. Most business activities are not subject to additional rules, however operating in the local market is forbidden.
Dubai International Financial Centre (DIFC)
The DIFC, which is located on Sheikh Zayed Road, is an ideal investment destination with its own jurisdiction over employment, corporate security, and civic bodies. Entrepreneurs and professionals who want to launch a business in the financial sector can use the grounds. There are 2,289 registered companies in the ecosystem, with 24,000 employees. A regulatory framework for the SME sector has been established by the centre.
Benefits provided under DIFC
Business owners and professionals considered DIFC as the ultimate investment ground due to lucrative benefits that the region provides, which includes:
No restrictions on foreign exchange
100% foreign ownership
Complete exemption on personal income
Full repatriation of capital invested and profits earned
Strict money laundering options
Independent Regulatory Framework
Hub and Spoke Business Model
Types of Business entities in DIFC
If an investor wants to operate on the DIFC premises, he or she must choose one of the following business entities, according to the stated laws and regulations.
Company Limited by Shares
Limited Liability Company
Branch of an Existing Foreign Company
Transferred Company from Another jurisdiction
Requirement of UAE Government Regulators
State Control
Depending on the type of operation and the jurisdiction of incorporation, different state criteria apply. The Central Bank of the UAE (CB), the Financial and Commodity Markets Management Committee (SCA), and the Police are the major regulating bodies.
Share Capital
In most circumstances, there are regulations relating to the amount of authorised capital, with minimum levels ranging from 41 000 to 1.4 million dollars. In extreme situations, the permitted capital required for complex permits might be as much as US$8-14 million or more.
Bank Guarantee
For the fulfilment of financial obligations to other parties, the State has established standards for a bank guarantee. The guarantee amount is determined by the type of financial or investment activity. The needed deposit can be fairly large at times.
Qualified Personnel
Financial managers, analysts, specialists in internal control over financial transactions, and a general manager with the required degree of education or qualifications are among the prerequisites for staffing levels and skills.
Equipped Office
Financial and investment firms must meet a number of requirements, including having a physical office that meets regulatory standards and international standards. It must also be suitable for confirming it as the business decision-making centre in compliance with Economic Substance standards.
Internal Control
To minimise risks, regulators must guarantee that an internal control mechanism is in place as well as rigorous adherence to the law. They're also looking for procedures and processes to ensure that money laundering laws are followed.
Benefits of starting a business in UAE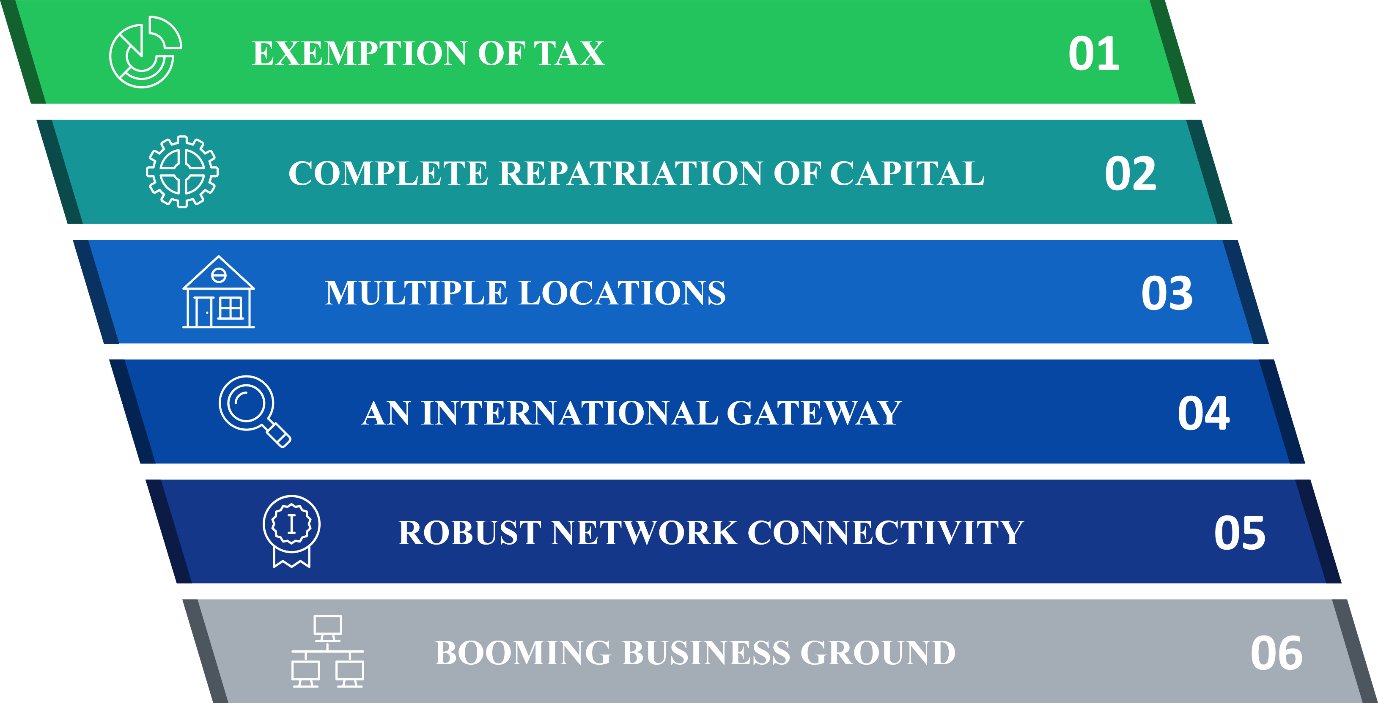 The booming ground of the United Arab Emirates has exempted income tax, which has shown to be a rewarding criterion for company investors. However, on January 1, 2018, the nation enacted VAT procedures in accordance with GCC countries, and it was mandated at a rate of 5%. You won't have to worry about paying taxes if you start a business in the UAE.
Complete Repatriation of Capital Invested and Profits Earned
The next advantage is that if a situation arises in which you must choose company liquidation, you will not be charged any further fees for clearance. You have the option to return the entire amount deposited as well as any profits earned.
A strategic location is one of the factors that contribute to a company's success. The UAE offers a variety of commercial sites, including Mainland, Free Zones, and Offshore, each with its own set of advantages. Before you choose one at random, it will be more advantageous if you learn some knowledge and then choose one that will best benefit your business.
When it comes to business expansion, the United Arab Emirates is one of the best places to go. The country borders Oman to the east, Saudi Arabia to the south, Qatar to the west, and Iran to the north. It is located in the southeast end of the Arabian Peninsula. Setting up a financial organisation in the UAE will allow you to progressively get access to adjacent nations, which will be helpful to your business.
Robust Network Connectivity
Network connectivity is one of the most important characteristics for enterprises in the region, so the country possesses it.
The United Arab Emirates is home to people from over 200 different countries. Whether you're a startup, an established company, huge, small, or medium-sized, Dubai's ground has a place for you. Investing in Dubai is a wise decision because the region offers a diverse range of opportunities for all types of businesses.
Conclusion
The UAE's economy has grown at a rapid pace in recent decades, and it has become one of the world's most enticing commercial hubs. International entrepreneurs select UAE for development and profit because of its geographic location, diversity, and wide range of commercial opportunities, as well as the favourable tax environment. Foreign entrepreneurs interested in founding an investment company, for example, carefully assess the ease of doing business in the UAE. Both local and foreign investors benefit greatly from the tax concessions available in the UAE's free trade zones.
Establishing a financial foundation in the UAE is advantageous, but you must ensure that all stages of incorporation are completed appropriately. If you have a financial idea but don't know where to start, it's a good idea to seek the advice of business specialists who can grasp your business model and assist you properly. Conducting investment and financial activities in the UAE, as well as dealing in overseas markets, necessitates a thorough awareness of local laws and the engaging a licenced participant to complete incorporation requirements.