There are some services that require recharging in order to reap the benefits right away. These services are required to maintain a smooth living. To avoid losing your phone service, Wi-Fi, electricity, gas, and water, among other services, you must pay your bills on time to ensure that you continue to have access to them.
The same may be said for the procedure of renewing health insurance. A health insurance plan is often a one-year contract between the insurer and the policyholder that must be renewed before the expiration date. In most cases, the insurer sends a renewal notice to the policyholder to remind them of their health insurance policy's imminent expiration date. The procedure of renewing health insurance is quick and straightforward, and because health insurance is required by law in the UAE, it is not something that can be avoided.
Thus in today's blog we will lay emphasis on all about Health Insurance Renewals. So without any further ado, let's learn.
The Significance of renewing your Health Insurance Coverage
It is critical to renew a health insurance policy. It may appear needless because it does not provide immediate enjoyment, but it pays off handsomely in the long term. In order to continue to enjoy the benefits of health insurance, it must be renewed at the end of each policy year, just like vehicle or life insurance.
In this digital age, health insurance can be purchased both online and offline with the assistance of an insurance agent. A health insurance renewal can also be accomplished online by visiting the insurer's website or by visiting the insurance provider's nearest branch. If you renew your insurance policy on time, you will continue to receive all of its advantages without having to worry about any of its provisions expiring.
The Procedure for renewing your Health Insurance in UAE
Understanding your current health insurance policy is critical to completing a smooth renewal process. Consider renewal as a yearly check-up for your health insurance plan. Examining the existing policies will assist you in determining what works best for you and what does not. It also allows you to make the changes you want based on your current situation and future goals. Renewal entails entering into a new contract with your insurance provider. It allows you to revisit your policy and make changes to reap the benefits that best suit your needs.
The following are the measures to take in order to renew your health insurance:
The insurer will reassess the costs for the upcoming year when you renew your coverage. Keep in mind that prices tend to rise with each passing year due to inflation, new technological advancements, medical expenditures, and other factors.
The insurance company will then offer the best health insurance in UAE, as well as its price. This is the point at which the insured must choose the insurance that provides the best value for money. Examine all of the benefits available and make sure you understand all of the changes. Always keep in mind that there is always space for discussion. Be honest with your insurance agent so that they can tailor a plan to your specific needs.
Fill out all of the necessary documentation to ensure a seamless policy installation. It is in your best advantage to furnish your broker with the relevant paperwork as soon as possible to avoid any complications later.
If you want to renew your health insurance policy with a new insurance provider, make sure you provide enough time for the renewal procedure because it may take longer than renewing a health insurance policy with your current broker. This will prevent you from going without medical coverage during the renewal term of the finest health insurance in Dubai and other cities.
Tips for getting Your Health Insurance Renewed
When it comes to renewing an insurance to ensure consistent coverage, keep the following guidelines in mind: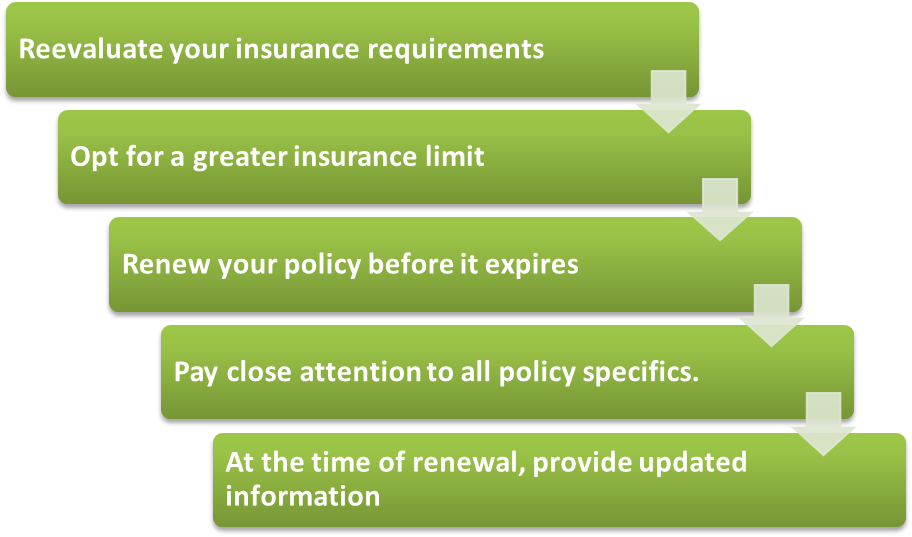 Revaluate your Insurance Requirements
Future planning necessitates a reevaluation of one's requirements and desires. In the same way, renewing your Medical Insurance in Dubai and other emirates for the coming year necessitates an assessment of your insurance needs. If you plan to marry or have a child, it's a good idea to add a maternity benefit to your regular policy when you renew it.
Opt for a greater Insurance limit
At the time of policy renewal, insurance companies give policyholders the option of choosing a higher sum insured. This, however, necessitates medical testing as well as a review of the insured's claim history. Although the sum insured cannot be extended beyond a set amount if it exceeds the health insurance plan's sum insured limit. In this case, the policyholder can add riders or purchase a "Super Top-up Policy" to boost the amount protected.
Renew your Policy before it expires
If a policyholder fails to renew their policy on time, they are usually given a 15 to 30 day grace period to pay the premiums. The policy will lapse if the policyholder fails to make the payment during the grace period. As a result, it is in your best interest to renew the policy on or before the expiration date.
Pay close attention to all policy specifics
Make sure to read your policy's specifics thoroughly, giving special attention to the exclusions, claim procedures, and renewal clause.
At the time renewal, provide updated information
When providing information to your insurance carrier, always be truthful. To avoid any inconvenience while making a claim in the future, include all facts regarding your medical history and present problems not only when purchasing the policy, but also during the renewal procedure.
Consider the following points as you renew your Health Insurance.
When renewing an existing insurance, there are a few factors to keep in mind:
Examine the terms of renewal:
Insurance firms send policyholders a renewal reminder 45 days before the renewal date. The facts of the policy, such as the sum assured, the type and number of claims made, and the no-claim bonus, are usually included in this email reminder. A policyholder must carefully review this material and immediately notify the business if any errors are discovered.
Examine your insurance cost:
Healthcare prices have risen at an exponential rate in recent years, and this trend is expected to continue in the future. As a result, your current policy may not be able to provide enough coverage to meet your medical expenses. As a result, it's critical to examine both current and prospective health insurance needs. It is recommended to choose a bigger sum insured or even consider adding a rider to your base policy, depending on your needs.
Before you renew, look into other options: If a policyholder is dissatisfied with their existing insurer, they can transfer their coverage to another carrier. This could be because to reduce benefits, greater premium expenses, and sub-limits. Health insurance portability refers to the procedure of transferring a policy. Among its many perks, the policyholder principally does not lose out on the benefits of health insurance in the UAE, such as the no-claim bonus or the waiting period when transferring the policy from one provider to another.
Conclusion
If you and your loved ones are well and healthy, count your gratitude, but no one knows what the future holds. If you fail to renew your health insurance in the UAE, you will be left defenseless in your time of need. Health insurance is thus a long-term investment that requires both patience and discipline, but the benefits are numerous. We hope this blog provided you with valuable information. For more information on other related aspects, feel free to check out our Website as well.