About Dubai Multi Commodities Centre (DMCC)
Discover DMCC, the world's No. 1 Free Zone and global trading hub. You will find everything you need to live, work, and prosper here in the heart of Dubai, at the heart of the Jumeirah Lakes Tower neighbourhood, one of Dubai's most famous destinations. It is easily accessible from Sheik Zayed Road and is located near the Jebel Ali port and the future DWC airport. Abu Dhabi is only 45 minutes away by car. There are two metro stations. It was founded in 2002 and has since been a focal point for businesses dealing in precious stones, gold, tea, pearls, and other commodities. It now has more than 9000 organisations with permits. Every year, more than 94 percent of them renew their licences.
DMCC is unlike any other Dubai Free Zone, although it offers a lot of promise for the retail and commerce industries. The DMCC free zone is the only place in the world where you may get retail exposure and expand your brand. For three years in a row, the Financial Times FDI magazine has named DMCC the "Global Free Zone of the Year," and it has been home to a vibrant community, innovative infrastructure, world-class services, and an appealing selection of properties, all within minutes of excellent air, sea, and road links to the rest of the world.
The Dubai Government launched DMCC in 2002 as a strategic initiative to build a marketplace and the required physical and financial infrastructure to support a robust commodities market. Currently, the DMCC free zone is home to about 12,000 active firms, including commodities and other types of industries.
Types of Licenses Provided in DMCC
The Dubai Multi Commodities Centre provides a conducive environment for a wide range of commercial activities and offers excellent value to all organisations. The licencing authority of the DMCC provides the following alternatives for licencing: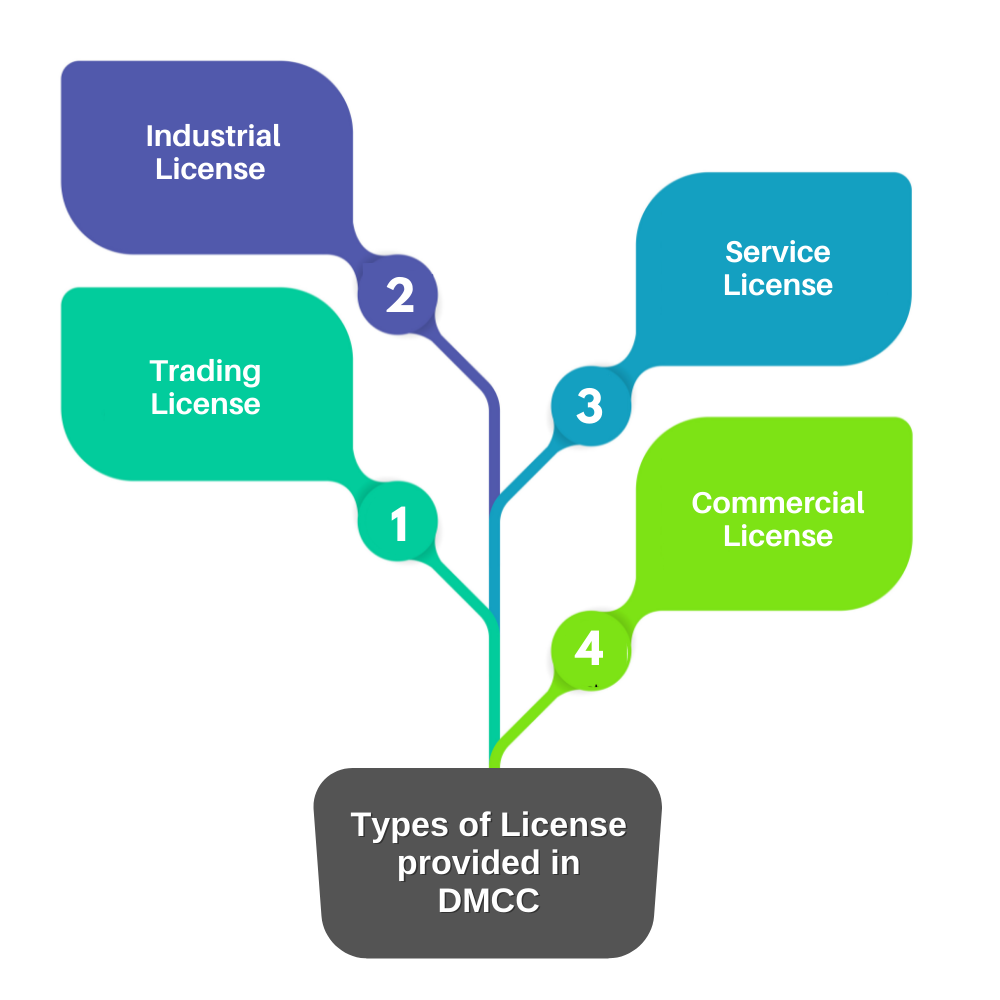 Trading License
Almost all types of items can be imported, exported, distributed, consolidated, and stored with a Trading License.
Service License
Allows you to perform the service or consultancy activities that the licence specifies.
Industrial License
An industrial licence allows you to carry out the specified light manufacturing operations.
Commercial License
Any legal goods can be traded with a commercial licence.
Types of Legal Entities Registered under DMCC
New company
Limited liability company as a newly formed entity with single or multiple shareholders.
Subsidiary Company
Limited liability company as a wholly owned subsidiary of a local or foreign company.
Branch Company
Local or foreign company (no share capital is required)
Why one should Start a business in DMCC?
DMCC contains everything you need to get started; it's designed specifically for commerce and the growth and development of your company. The Financial Times fDi magazine has named it three times as the "Worldwide Free Zone of the Year." It's home to a vibrant community, world-class administrations and a creative framework, as well as a spectacular selection of residences just minutes from world-class air, sea, and road connections. Find DMCC, where business meets the world, and find unlimited open doors for global development. Branches, subsidiaries, and limited liability companies (LLC) can all be registered in the DMCC freezone.
Foreign investors interested in establishing a business in the DMCC should be aware that the country has a wide range of free zones where they can profit from exceptional business circumstances.
The Company Registry Office, Chambers of Commerce and Industry, Federation of UAE, is responsible for company registration and creation in the United Arab Emirates.
How will Dhanguard help you?
The DMCC free zone has helped to strengthen Dubai's commerce and trade industry, making it the greatest industry to enter and start a business in. A DMCC company formation will assure your firm's growth and profitability, and a business counsellor will assist you in getting started. The types of services we offer are as follows-
What corporate form best meets your current and future ambitions; advice and consulting
Prepare documents, organise files, and oversee submissions, translations, notarizations, and legalizations.
With Emirates ID, you can apply for visas and work permits.
Professional, Branch Office, and UAE Offshore Company Partnership Options
Obtain permits from the Department of the Economy, Ministries, the Department of Planning, and the Department of Civil Défense;
Create a bank account for the company.
Business registration, licencing, public relations officer (PRO) services, VAT registration in the UAE, employee visa services, and other business legal requirements are among the services provided by DhanGuard. We relieve you of the strain of business setup services in Dubai, allowing you to concentrate on the wider picture of your organisation. Please contact us, and a member of our staff would be happy to assist you.