The UAE Federal Government owns 100% of Al Etihad Credit Bureau, which is a public joint stock company. The corporation is required to obtain credit details from financial and non-financial institutions in the UAE on a regular basis under UAE Federal Law No. (6) Of 2010. Al Etihad Credit Bureau compiles and analyses this information in order to generate Credit Scores and Credit Reports for individuals and businesses in the UAE.
What exactly is AECB?
Al Etihad Credit Bureau AECB is a dedicated financial institution that gathers credit information from individuals, banks, and financial institutions. The Federal Government of the UAE owns and operates it as a Public Joint Stock Company. It is in charge of gathering financial and credit information from all organisations in the UAE and using it to generate AECB reports and credit scores. For a nominal price, individuals and businesses can receive their credit scores from the AECB.
How does the AECB gather credit information?
A credit report can only be accessed if a person has taken out credit in their name, or by a credit card or other financial or commercial transactions. The Bureau obtains its information from banks, insurance agencies, and, on occasion, telecommunications companies. An individual's tenancy history or utility bills can also be examined if appropriate. Specific wages are not considered until the very end of the data collection process. Both of these records contribute to the creation of a unified credit report.
The AECB is collaborating with the UAE's highest jurisdictional courts, including the federal courts, in Ras Al Khaimah, Abu Dhabi, and Dubai. These guarantees in all subsequent rulings against individuals regarding payment issues are recorded.
What is a credit score?
Initially, the AECB only released credit ratings, but it is now releasing individual credit scores. A credit score would be a number between 300 and 900 that will assess the creditworthiness based on chances of making timely loan or credit card payments.
An individual has defaulted on a bill if the ranking is 300. It may also suggest that a person is 90 days past due on a payment or has had at least four bounced checks in the previous year. There is a direct correlation between the likelihood of missed payments and the amount of bounced checks.
What is credit score used for?
The Credit Score would allow financial institutions to make better-informed decisions, process credit card and loan applications more efficiently, and give those with high scores preferential treatment.
How is credit score calculated?
Credit scores are determined using data from a variety of sources, including banks, finance firms, and telecommunications companies.
A credit score is fluid, and it fluctuates based on the most recent details of credit report. Missing or delaying a payment beyond the due date, using all of credit card limits excessively, or taking on additional loans or credit cards may all lower the credit Score.
Reduce the number of credit cards, regularly reduce unpaid balances, and make payments on or before the due date to increase the credit score.
How can one obtain Credit Report form AECB?
To receive a credit report, go to Al Etihad Credit Bureau's Customer Service Centre and fill out an application for a credit report. Individuals must have the following documentation to receive a credit report:
Identity Proof
The Applicant has to provide original Emirates Identity card for verification.
Passport
The applicant has to provide a certified copy of the passport so that the concerned authorities know that from which country the applicant belongs and for other future references.
Authorizing Documents
The following items must be brought for authorization: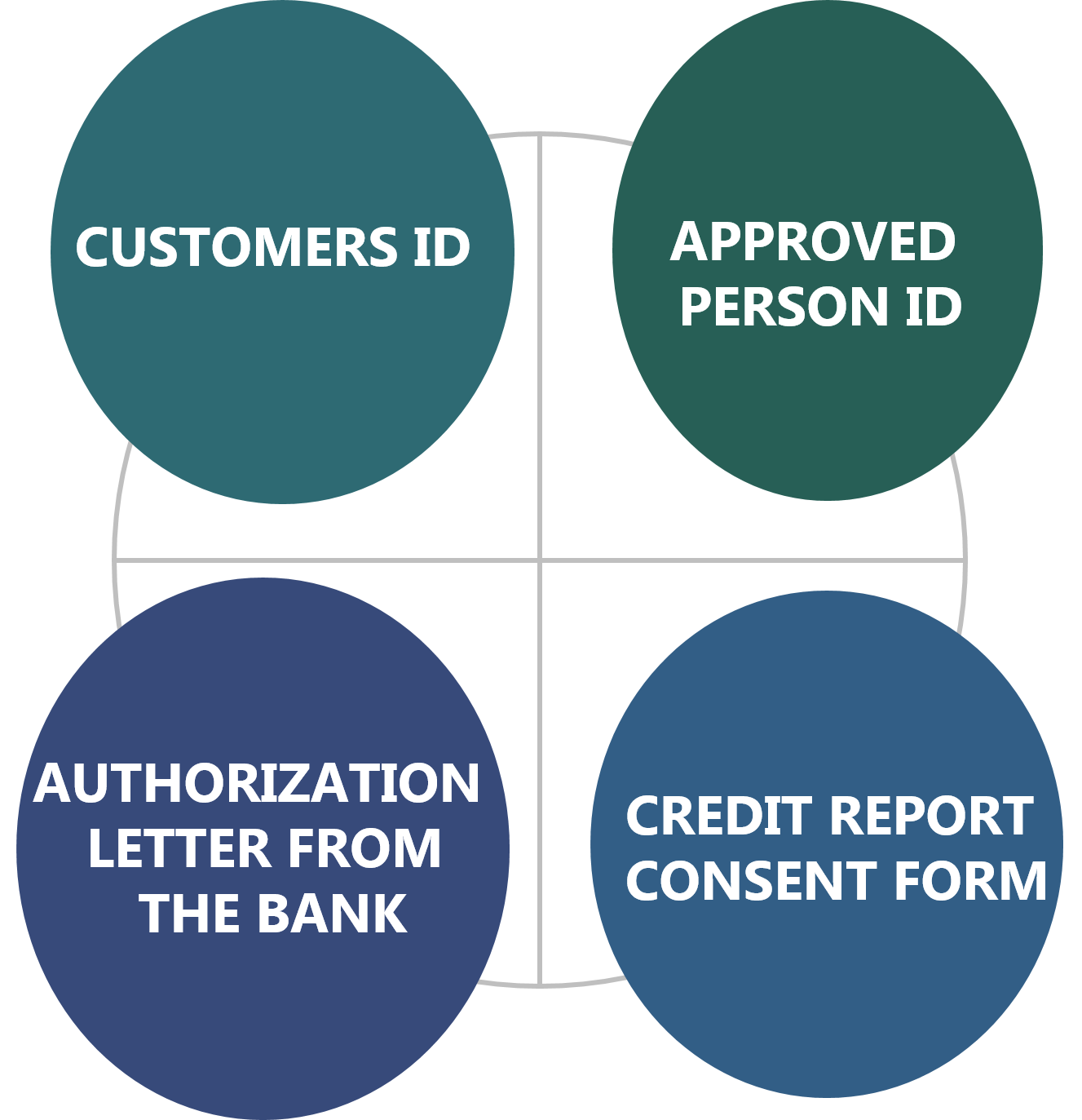 Customers ID
A copy of the customer's Emirates Identity card and passport has to be provided (owner of the Credit Report).
Approved Person ID
The approved person has to provide original Emirates Identity card for the purpose of verification.
Authorization Letter from the Bank
An Authorization Letter from the bank that requires verification of the customer's signature, or an initial notarized Power of Attorney acceptable to the Al Etihad Credit Bureau.
Credit Report Consent Form
Completed Credit Report Consent Form which is available online, in this form the applicant gives his/her consent that a company can obtain information for generating credit report.
Can Al Etihad Credit Bureau accept or deny loan application?
The Al Etihad Credit Bureau does not have the authority to make decisions. Decision makers and first points of touch for any loan or credit application are banks and financial institutions (credit providers).
What data will be collected about you?
Your bank will have information on your financial commitments to the AECB. So if you have a couple of credit cards and a deposit, your credit report would reflect that. However, it also provides specifics about your purchase history. If you routinely skip debt payments or have your credit cards maxed out, your credit report would show this. When, on the other hand, you have a spotless payment history and no late fees and a fully charged credit card, it would appear on your profile as well.
The AECB will also obtain reports from non-financial entities to see whether you are fulfilling your other financial commitments. So, for example, the telecoms service can have reports about any late bill payments, as well as statistics from other organisations.
Why is it important to track credit score?
Financial institutions examine your credit score background and evidence to determine whether or not you are a suitable fit for a loan. In the basis of financial services, people with higher credit ratings are granted preferred bundles.
Although the bank will consider the credit rating or ranking before making a loan decision, the decision will still be affected by the bank's own requirements at the moment.
Conclusion
The AECB credit score is a precise reflection of a person's creditworthiness. This makes your credit score critical for lenders such as banks and other organisations that lend money or do business on the basis of trust. Connect with Dhanguard to get your credit score.