Financial planners can assist you in determining the focus of your life through consulting with the experts. Self-development, family, job, and social issues are common areas of concern. All of life's elements are influenced by two finite resources: time and money. A financial planner will assist you in allocating these resources in order to attain the greatest balance depending on your overall goals.
Dhanguard will give you a brief guide to help you understand more about Financial Planning.As a Financial planner we will guide you with our considerable financial advice. This article should ensure that you get the most satisfactory financial outcome possible.
Is it Necessary to have a Financial Planner?
Financial planning assists you in identifying your immediate and long-term financial goals and making rational decisions to achieve those goals. The first step in creating your budget is to consult with an advisor. Most people feel that financial planners are only investment consultants, but they will also provide extra ideas to help people's lives in terms of their financial status.
Benefits of Using a Financial Planner
Financial planners provide numerous advantages. They will provide you with several vital strategies in a variety of situations, including the following: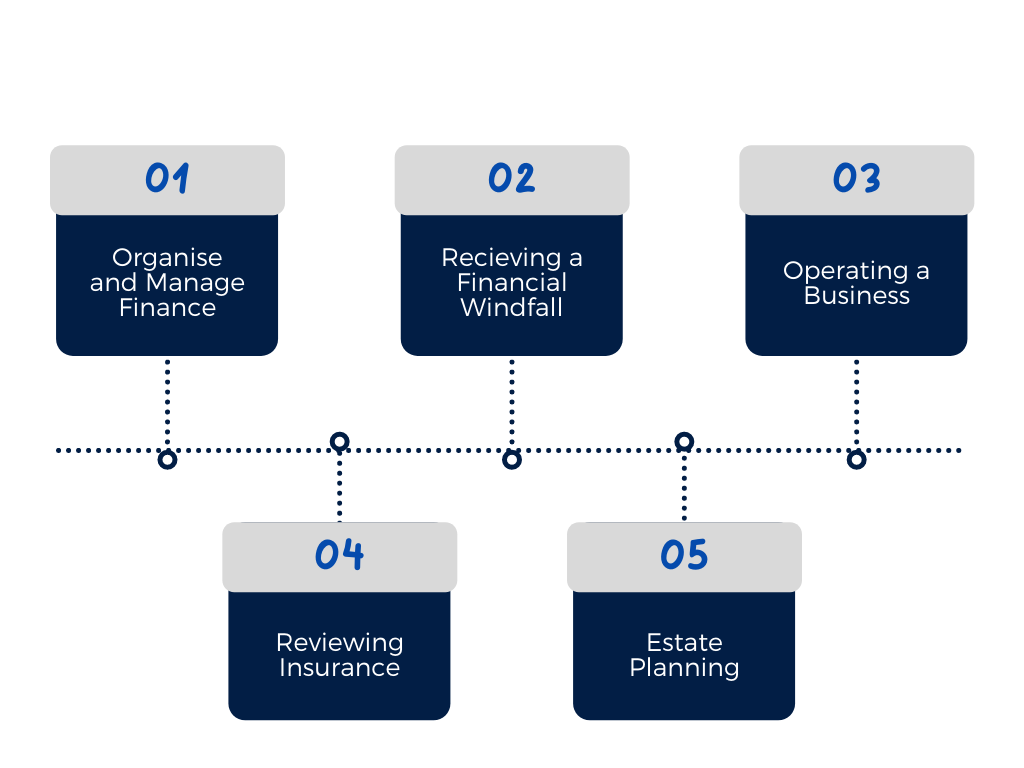 Organise and Manage Finances
Many individuals have complicated financial lives but need more time, knowledge, discipline, and objectivity to manage them. Financial planners can assess your entire net worth and financial condition, help you determine your life aims and outcomes, and offer ways to help you achieve those goals.
Receiving a Financial Windfall
Inheriting a large sum of money or winning the lotto frequently entails financial and non-financial considerations. For example, it is preferable to apply the funds to debts; otherwise, you may wish to contribute some of it to charity. Inheritance, in particular, is sometimes loaded with significant emotional concerns and familial tensions, making impartial outside guidance vital.
Operating a Business
A financial planner may assist in developing a retirement and benefits plan for the owner ; thus the employees and building a suitable succession plan in the event of the business owner's retirement, death, incapacity, or choice to sell.
Reviewing Insurance
A financial planner can assess your insurance needs and consider disability income and long-term care choices in light of your entire financial situation and aspirations.Certified financial planners in Dubai provide comprehensive financial planning advice on everything from budgeting and investing to insurance and retirement planning, with some financial planners specialising in investments, tax, pensions, and a variety of other products.
Estate Planning
While you should have an attorney create the estate planning forms, a financial planner may put those documents in the context of your financial situation and your vision for how your assets should be distributed. Financial planners can address wills, living wills, powers of attorney, life insurance, trusts, and other estate planning problems for the distribution of wealth both during life and after death.
How does Dhanguard help you as a Financial Planner ?
Financial advisers go by various professions, including Financial Consultant, Financial Planner, Private Client Adviser, Insurance Consultant, and others. However, when selecting a financial adviser, the service they give, the organisation for which they work, and their credentials are more significant.
Following are the Key Points of Dhanguard as a Financial Planner
We will guide you in meeting your current financial needs and long-term goals.

Assessing your financial situation, understanding what you want your money to do for you (both now and in the future) and helping create a plan to get you there.

We will set up an asset allocation that fits both your risk tolerance and risk capacity.

We can help you incorporate tax-advantaged products and investments into an overall, long-term investment strategy.
Read more :-Why do we need Business Setup Consultant to Setup a Business
Things to consider before Hiring a Financial Advisor in the UAE
Here are several factors to consider while selecting a professional:
Are they Qualified?
Don't be scared to ask to examine an adviser's qualifications. An excellent financial adviser is proud of their professional progress and will jump at the chance to demonstrate to you their accomplishments. Financial advisers who lack capabilities will almost certainly try to avoid answering the question or will weave you a white lie.
Do they have a good Track Record?
What is the best way to find out if they have a good reputation? The solution is available online. While this is not a foolproof strategy, examining an adviser's web presence can demonstrate how trustworthy they are.
What is the Cost of the Advice?
In the UAE, advisers are compensated in two ways:
There is some discussion over which is better for the customer, but it's pronounced that fee-based advisers are more inclined to act in your best interests.
Financial counsellors who are compensated with commissions are frequently accused of being nothing more than salespeople. While this is true for most, some ethical consultants are paid commission, and you'll know they're decent if they're honest about how much their counsel will cost.
Are the Products they recommend Authorised?
Financial Services in the UAE are sometimes compared to 'The Wild West,' but it is not only financial advisers that must be chosen with caution. Many insurance and financial service firms operate in the UAE and actively solicit business from unscrupulous brokers.
How does their Advisory Process Work?
An unbiased Financial Planner will:
Gather as much information as possible about yourself, your family, your life, and your aspirations.

Conduct a thorough examination of your existing financial situation.

Look for relevant products on the market.

Presentation of a comprehensive financial report including everything you've talked about, their proposal, and why it's appropriate for you. This is a lengthy document; therefore, you should certainly avoid it if you are just given a two-page report on an investing strategy.

If you accept the proposal and proceed, you must review your financial plan at least once a year or as often as you and your adviser agree.
Conclusion
This article discusses some of the advantages of hiring a financial planner. It also shows some of the factors to consider while working with a financial planner.
You'll have several financial objectives that you'd like to achieve, but to complete them at the appropriate time in your life, you'll need to have a budget in place. "If you don't plan, you'll fail," someone wisely stated.
Financial planning helps you make the most of your money, save and invest for long-term growth and stability, and achieve your objectives on time. Keep a close eye on your finances and be cautious with every decision you make. It isn't rocket science, after all!
Dhanguard is a financial planning consultancy that helps Emiratis and expats.