It's incredible to see how much the UAE has progressed over the last few decades. The barren deserts of the Gulf have now become one of the most varied and largest economies in the region.
When it comes to financial tools, mutual funds in the UAE appear to be a viable option for many investors. Mutual funds are a good option for folks who want to invest passively. It is a convenient technique to gain market exposure that has built-in diversity and a stress-free mechanism. In a nutshell, you put your money into a tool, which is an investment pool overseen by a professional fund manager.
Dhanguard has compiled a list of some of the greatest mutual funds for you in this post.
Top Mutual Funds in the United Arab Emirates
The most popular best mutual funds accessible in the UAE are listed below:-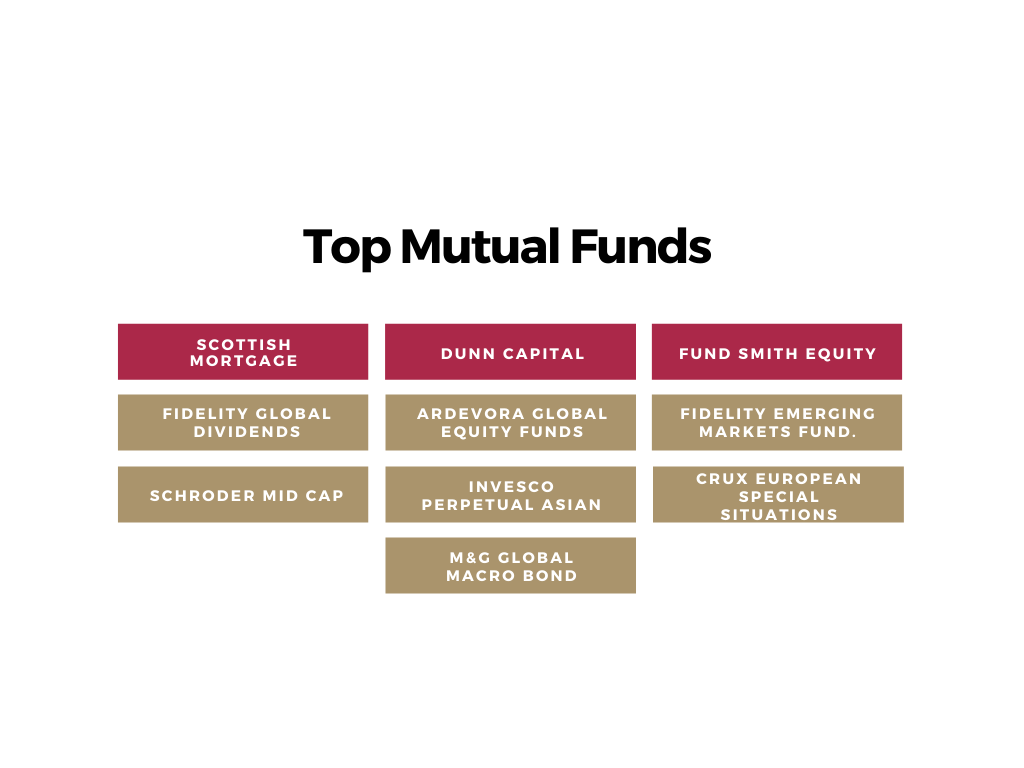 Scottish Mortgage
This is an investment trust, which is a type of mutual fund in which the shares are traded in the same way as regular equities. It is part of the FTSE 100 index. It's simple to trade it on any of the share-dealing platforms that provide UK stocks. This trust invests in company portfolios around the world.
When it comes to technological winners like Facebook, Amazon, and Alibaba, the portfolio remains high conviction and includes a growth tilt and long-term investments. It is one of the most cost-effective actively managed mutual funds.
Dunn Capital
It is a worldwide mutual fund that was formed in 1974 by William Dunn, who was a pioneer when it came to making an investing decision that is rules-based and fully based on statistics, removing any emotion and subjectivity.
Dunn Capital intends to make money regardless of whether the market is rising or falling. For example, during the height of the global financial crisis in 2008, when the markets were down by around 40%, it rose by around 15% significantly.
Fund Smith Equity
Fundsmith is a global fund that can be invested in and is run by the well-known Terry Smith. This fund invests a limited amount of money in a small number of high-quality, globally expanding firms that trade at a good price and that it intends to hold for a long time.
Amadeus IT, Novo-Nordick, Dr. Pepper Snapple, and Paypal are among the top holdings. It has a substantial weighting in the US, accounting for about two-thirds of the portfolio, as well as UK-based companies and some European exposure.
Fidelity Global Dividends
Those seeking income are advised to invest in Fidelity Global Dividend, which focuses on companies that give unique dividend yields while also having the potential for share price rise. The fund seeks out worldwide firms with high-quality earnings streams and excellent balance sheets that are trading at reasonable prices.
Royal Dutch Shell, Procter & Gamble, Taiwan Semiconductor Manufacturing, and Johnson & Johnson are among the fund's top holdings.
Ardevora Global Equity Funds
This is an Irish-based fund that invests in both short and long-term positions in individual companies, as well as large market emotions. This firm employs a bottom-up strategy to asset selection, looking for instances where market sentiment diverges from underlying fundamentals such as valuations and stock prices.
This mutual fund has a large portion of its assets invested in the United States. The rest is allocated to Japan, Europe, and other parts of the globe.
Read More: Guide to Investing in UAE
Fidelity Emerging Markets Fund.
This fund invests in fast-growing countries in Asia, Africa, Latin America, the Indian subcontinent, the Middle East, and Eastern Europe. It has the potential to become an important part of a portfolio's core holdings. This portfolio aims to invest in high-quality growth equities while avoiding companies with bad corporate governance.
Firms with high returns on equity, which can sustain growth through free cash flow, are also favored. This product has traditionally been one of the lowest-risk funds in a volatile peer group due to its cautious approach.
Schroder Mid Cap
Typically, active-managed fund managers struggle to outperform the US market, especially because the S&P 500 is dominated by tech behemoths like Facebook and Amazon. This fund avoids such behemoths in favor of seeking value in medium-sized businesses that have been mispriced by the stock market or appear to be on the verge of a comeback.
The management engaged have a lot of expertise and know what they're doing, and they're aware of the price they have to pay for the firms. With so much focus on large US equities, mid caps could prove to be an interesting method to obtain exposure in the US.
Invesco Perpetual Asian
The fund manager for this mutual fund, Invesco Perpetual, has a great track record in Australia and Asia, with regular outperformance. Will Lam, the other manager, specializes in deep and broad macroeconomic study of the company in order to identify the most compelling prospects.
As a result, they now have a fantastic portfolio of 50 to 70 stocks that Mr. Lam feels will outperform the market. The adaptable and pragmatic strategy can adapt to changing market conditions.
Crux European Special Situations
This fund is managed by industry veteran Richard Pease, who has over three decades of experience and focuses on firms with great management and a strong market position.
He takes a strong conviction approach and looks for possibilities in small and medium businesses. Although this may be more volatile than the competition, he demonstrates that skilled stock pickers can generate significant value.
M&G Global Macro Bond
This product should be considered by investors who want to offset higher-risk stock market holdings with bond market exposure. It invests in a variety of fixed-income assets, including corporate and government bonds in both emerging and developed markets. The manager, Jim Leaviss, is free to choose any global assets that he believes have the potential to benefit from current economic conditions and market trends.
These are some of the greatest mutual funds to invest in in the United Arab Emirates. Mutual funds can be an excellent investment option for those looking for a low-risk way to invest their money.
Conclusion
The best time to begin your investment journey is now, due to compounding's rapid effects. Dhanguard can assist you in constructing an investment portfolio that is tailored to your personal profile and investment objectives.
Dhanguard is able to offer low costs and an excellent track record of maximizing returns because of modern financial technologies and our concentration on the passive approach to investing in the UAE.