Apply For Loan Against Property in UAE
Obtain a cash loan based on the income generated by your house. Dhanguard will assist you in achieving your goals by providing you with a specific mortgage facility based on the income generated by your residential property.
The United Arab Emirates has grown in popularity as a destination for expatriates over the years, especially in Abu Dhabi and Dubai (as these Emirates are business-friendly). To keep up with this trend, the UAE loan industry has developed into a well-established market, with local and foreign lenders offering home loan against property for expats as well as UAE Nationals.
When searching for a loan against property in Dubai, you can compare different loan offers to find the most affordable one that meets your needs. To choose the best choice, you must weigh a number of factors such as interest rates, your credit score, and others. Loans against property come in a variety of forms and from a variety of lenders. This can make it difficult to make the best decision. Contact our experts at Dhanguard to know more about this.
What do you mean by Loan against Property?
When you apply for a loan against estate, you can use your home or any other property as collateral. A loan provider assesses the value of your home to determine the loan amount you are eligible for.
You will be granted a loan for a certain amount of the market value of your home. The percentage amount will vary from one bank to the next. When you take out this category of loan, your property becomes collateral, which means that if you don't pay back the loan, your lender has the right to sell it at auction. As a result, evaluating a loan before selecting a provider is critical.
Why do people prefer to get Loan against Property in UAE?
The following are some of the reasons why people in the UAE choose to take out a loan against their property-
Expanding your business
You understand the value of investment if you're trying to start your own company. To grow and deliver more sales, a company needs to invest.
Many people opt to use their home as collateral for a loan so that they can finance their company on their own. However, it is important to carefully assess the business plan's chances of success and related risks.
If something goes wrong, you'll have to repay the loan on your own, with no help from company profits.
Similarly, there might be other personal or professional reasons to use a loan to leverage the market value of your home.
Whatever your reasons are, it is critical to develop a comprehensive plan around them in order to ensure the protection of your land.
Ability to fund your kid's education
Many people use the value of their home as a loan to pay for their children's education. When opposed to education loans, a property loan will provide lower interest rates.
What are the benefits of using a loan against property in UAE?
There are numerous loan providers in UAE who are willing to lend against your property. These provide land owners with a number of advantages.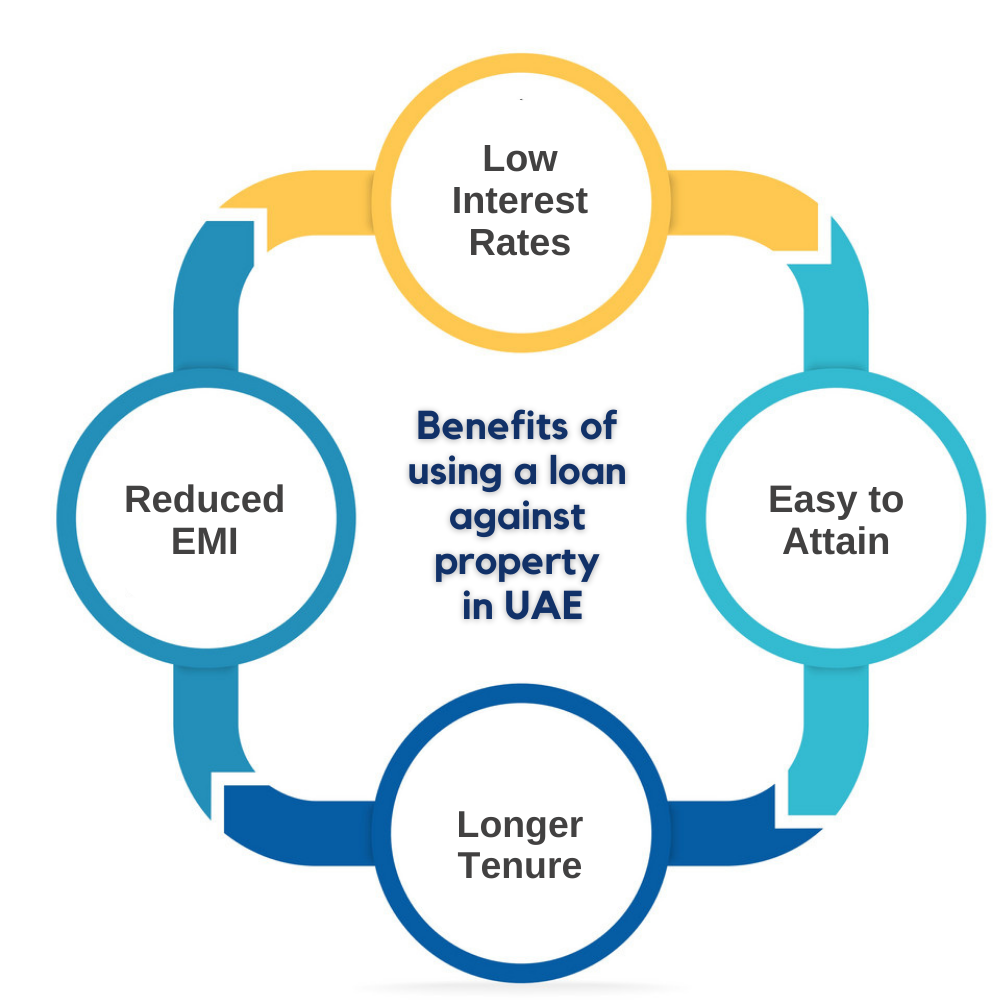 Low Interest Rates
Your property serves as leverage in this form of loan, allowing you to obtain a larger loan sum at a lower interest rate.
The interest rates on these types of loans are typically lower than those on personal loans. In terms of interest rates, however, loan providers in UAE still offer a wide variety of options.
Easy to Attain
This type of loan is classified as a secured loan because it uses real estate as collateral. As a result, there are a variety of lenders that can provide these loans. As a result, finding a loan provider does not pose a challenge.
Longer Tenure
Depending on the lender you want, you will have a variety of options for repaying your loan.
These loans usually have a 5 to 25 year repayment period. The longer maturity period makes repayment much more convenient than for other types of loans. However, the duration of your loan is determined by your lender.
Reduced EMI
The monthly EMI decreases as the loan term lengthens. It's also true in the other direction. You would have a more convenient EMI to repay your loan if you want a longer term.
This eliminates the risk of putting undue strain on your overall financial situation. To keep the best-suited repayment plan, you should find a combination of tenure and EMI.
What kind of property would you use as collateral for a loan?
If you want to get a loan against it, it must be your own house. This type of loan can be obtained using your own home or a leased house. A piece of land that you own is also acceptable to the lenders. However, it is important to use a property that is free of other debt obligations.
What are the Features of Loan against Property (LaP) in UAE?
Following are the features of Loan against Property in UAE-
A loan of up to 80% for UAE nationals and 75% for expats is available.
Variable and fixed interest rate options are available.
Finance for freehold, leasehold, and private villas with title deeds is open.
Repayment terms of up to 25 years are flexible.
There is no need for a salary transfer.
Group Cover Policy provides life and property insurance.
For UAE nationals, the minimum down payment is 20% of the property's value, while for expats it is 25%.
For Ijara transactions, the processing cost is 1% of the finance volume, and there is no fee for balance transfers.
An early settlement fee of 1% of the unpaid finance sum is paid, with a maximum of AED 10,000.
Group takaful rates of up to 0.03 percent per month are available.
The profit rate begins at a variable of 3%. A reducing rate is used to measure the rate.
This rate is variable and is based on the 6 month EIBOR rate plus a bank margin set by the Central Bank.
This loan's decreasing rate is 5%, while the corresponding flat rate is 2.76 percent. The measure is a division of the decreasing rate by 1.814, and it is only intended to be used as a guide.
Frequently Asked Questions
The LTV (loan to value) ratio is the relationship between the property's value and the sum borrowed.
The Early Repayment Charge (ERC) is a fee paid to borrowers who plan to pay off their loan early. The ERC may vary depending on whether the loan's interest rate is fixed or variable.
Based on your current residence and property construction status, there are certain limitations on the amount of properties you can fund. Fill out the form to know more about this.