Acquire Motor Insurance in UAE
Car insurance is a form of protection that protects your precious possession when it is being driven. It includes all expenses incurred as a result of tragic events such as theft, injuries, and mishaps, as well as third-party liability. All financial risks, like civil liability, should be covered by your car and you. Get your Motor Insurance with Dhanguard right away by taking advantage of the special offers!
Car insurance is a type of coverage that safeguards your prized possession while on the road. It covers all costs incurred as a result of unfortunate incidents like robbery, accidents, mishaps, and third-party liability. You should insure your car and yourself against all financial costs, including civil responsibility, expenses incurred as a result of a traffic accident, and physical harm as well as physical harm to you or a third-party.
What are the benefits of having Car Insurance in UAE?
The benefits of having a Car Insurance in UAE are as follows-
Security in the event that your car is stolen or damaged.
For third-party death or disability lawsuits, there is no limit on the liability.
Third-party property loss indemnity
Financial liability security
What are the types of Car Insurance available in UAE?
The two forms of car insurance plans available in the UAE are listed below. One can easily compare car insurance online based on their preferences. The types of Car Insurance available in UAE are as follows-
Third Party Liability Car Insurance
Any car owner in the UAE is required to have third-party liability insurance. It is the most basic form of car insurance in Dubai, as it protects you from any liability resulting from bodily injury or property harm to third parties incurred by the insured vehicle.
Third-party insurance does not cover the policyholder's own damage, such as collisions, fires, or robbery. Anyone purchasing third-party insurance should be prepared to cover their own recovery costs in the event of an accident.
Comprehensive Car Insurance
Comprehensive auto insurance covers the insured vehicle against any accidents caused by theft or fire, as well as third-party liability in the event of an accident resulting in property damage, injury, or death to a third party.
Which Factors Affect the Cost of Car Insurance in Dubai?
It's difficult to offer an exact car insurance cost in Dubai because it depends on so many variables. So, if you're thinking about getting car insurance in the UAE, keep the following considerations in mind: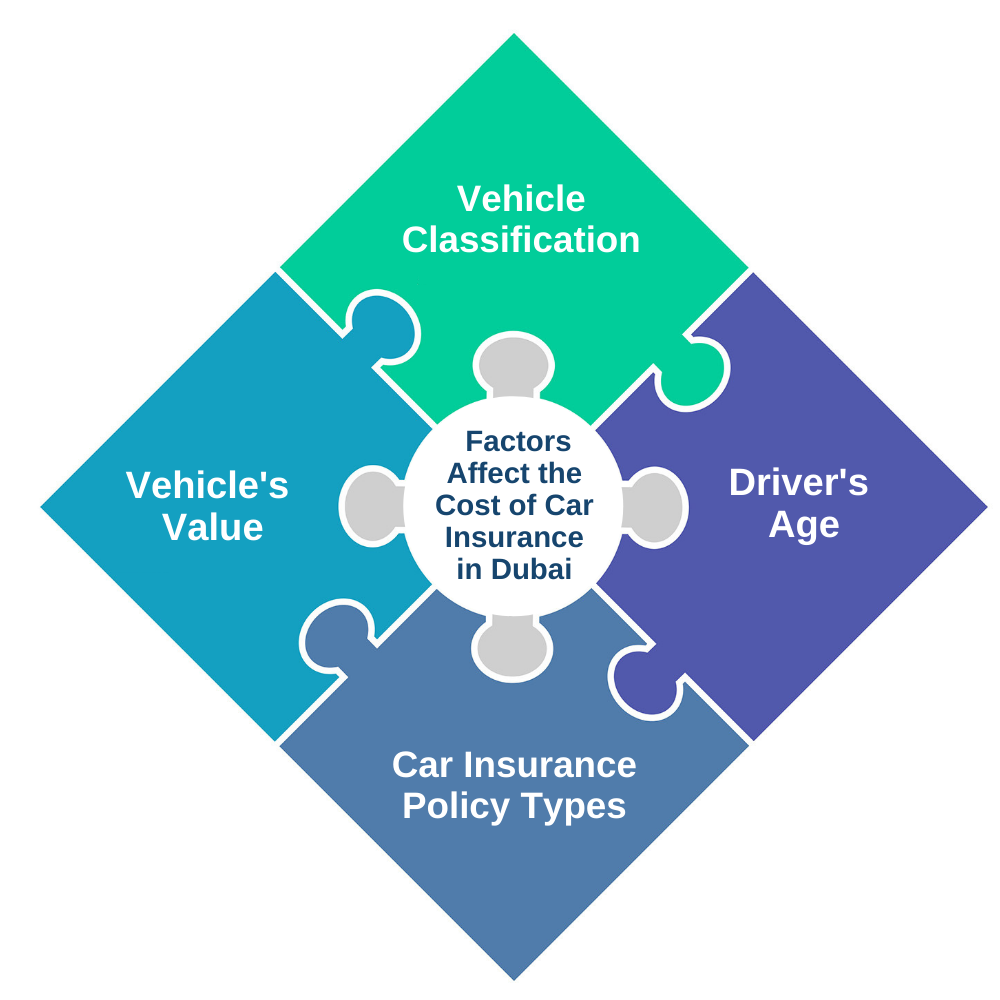 Vehicle's Value
The value of the car is one of the most important factors that influences the cost of car insurance in UAE. According to the rules, all cars with a market value of more than AED 300,000 have an approximate car insurance premium rate of about 2.75 percent of the car value in the UAE. The average car insurance premium in Dubai is calculated to be 3.25 percent of the car's value for four-wheelers that cost less than AED 1, 00,000. This is the most simple auto insurance premium that you would have to pay, regardless of which car insurance provider you choose.
The Driver's Age
The age of the driver is another significant factor in deciding the cost of automobile insurance in UAE. If you're between the ages of 23 and 24, you can apply an average of about 25% to the auto insurance premium rate that you're paying and get an estimate of the premium. If you are between the ages of 25 and 30, you can expect to pay a 15% increase in your car insurance premium.
However, if you're between the ages of 30 and 60, you can get a 10% discount on your premium. Young men are statistically more susceptible to injuries than older men, so there is a greater risk of accidents resulting in insurance claims.
Car Insurance Policy Types
The cost of car insurance in Dubai is also determined by the type of coverage you choose. People who choose a third-party liability car insurance policy pay a lower insurance premium than those who choose a comprehensive car insurance policy because the cost of third-party liability car insurance in Dubai is lower.
Vehicle Classification
Another significant factor that affects the cost of automobile insurance in UAE is the type of vehicle. If you have a simple vehicle, you will be required to pay a small premium. On the other hand, if you own a high-end car or SUV, you should expect to pay a premium for car insurance in Dubai. The explanation for this is that high-end cars and SUVs are more costly than standard cars. As a result, when it comes to fixing high-end vehicles, the costs are higher.
What are the best Car Insurance Plans available in UAE?
The best Car Insurance Plans available in UAE are as follows-
Oriental Car Insurance
New India Assurance Car Insurance
Salama Islamic Arab Car Insurance
Union Car Insurance
Watania Car Insurance
Adamjee Car Insurance
Al Sagr Car Insurance
Noor Takaful Car Insurance
How do you choose the best car insurance plan in the United Arab Emirates?
When it comes to having the best car insurance in the UAE, the following tips will help:
Understand the Insurance Expectations and Needs
When you decide what you want, determining whether or not a package meets your auto insurance needs is much simpler.
The Insurance Provider's Reputation and Dependability
In order to get the best automobile insurance in the UAE, the financial history of the insurance company is essential. A company with a strong industry reputation will always ensure prompt and hassle-free claim settlement.
Project and Price Comparison
When it comes to auto insurance, one size does not cover everything, so don't settle for the first car insurance quote you see. Instead, compare car insurance in Dubai and choose the policy that best meets your needs at a reasonable price. A fast and knowledgeable insurance decision can be made by comparing online car insurance Dubai.
Examine the Insurance Cover
Often check a provider's coverage to make sure it meets your needs. Avoid purchasing insufficient insurance policy and then regretting it.
Frequently Asked Questions
An auto insurance policy lasts for a year and must be renewed every year. If you fail to amend your contract, you will be given a one-month grace period to renew your auto insurance policy. This ensures that your plan's status remains active.
If you purchase third-party liability coverage, you will be covered for losses to a third party if your car is involved in an accident. It offers compensation in the event of a loss of life, physical injury, or material damage to a third party as a result of an accident caused by your vehicle.
To legally drive a vehicle in the UAE, we must have Car insurance.